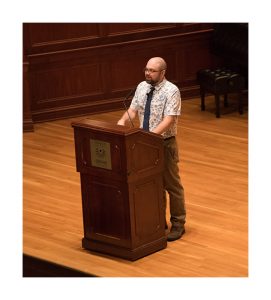 The 2017-2018 Brown Bag Series is off to a great start! TCNJ was pleased to welcome back Rob LaPlaca, one of the first graduates of our Interactive Multimedia program, to discuss his experience in the field of software engineering and his current position working at Etsy. From recovering from failed job interviews, to taking chances with unexpected opportunities, to "learning how to learn" and develop an expansive, interdisciplinary skill set, Rob was happy to share his knowledge and take questions from curious minds in the audience. His advice to his younger self – "Try new things" – can apply to all TCNJ students, not only in their future job searches, but in every step of their educational journey.
Rob was one of the first graduates of The College of New Jersey's Interactive Multimedia program. As an undergraduate student, he demonstrated his skill in web development, creating Flash marketing components for TCNJ's website. After graduating from the College, Rob spent the start of his career as a software developer at renowned digital agencies R/GA and Huge, Inc., where he redesigned the homepages of well-known corporations like Nike and Barnes & Noble, as well as working for other notable clients such as Verizon, Lexus, Royal Caribbean, and Pepsi. During that time he worked on full-stack website redesigns, ran a makerspace, and also organized a tech meetup.
Rob currently works at Etsy as a technical lead on the Maker Innovation team, which specializes in building software that provides sellers with the education and encouragement needed to grow their businesses in new ways.