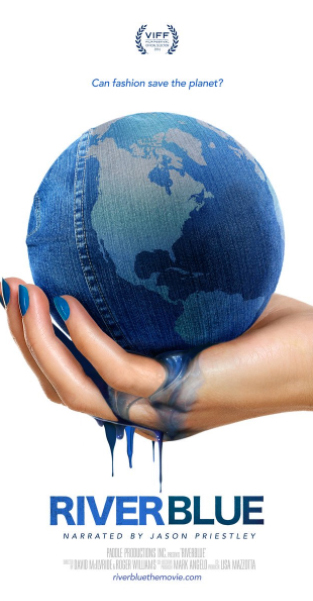 Kathleen Webber, a professor of Journalism and Professional Writing at The College of New Jersey, shares her story behind writing a review for a new documentary film that will be screened worldwide titled RiverBlue.
"I found out about the movie RiverBlue three years ago when they started production. I saw a trailer online and contacted the producer of the film. She said the film was in the works and they would let me know when it was finished and they did. They started screening it mid fall in Canada and then in the U.S. The producer sent me a link to watch it and I requested an interview with the director, David McIlvride, in late December. He told me the impetus for the film and who he hoped to reach with it– those who bought denim and particularly teens and college students because they buy so much clothing. His hope with the film was to change shopping habits by showing viewers what our overconsumption of cheap clothing was doing to the Earth. The article coincided with the 25th anniversary of the Environmental Film Festival in Washington, DC and I was looking to pitch it to an environmental publication with a far reach like EcoWatch. When the movie is available for digital purchase or download, I want to place another article about it in a consumer magazine.
Not many people know about the negative impact on people and planet that the production of clothing has had and this is just one film that shines a light on that. There isn't much regulation at all in the countries and the toxic chemicals that are spilled into rivers during the dyeing process are killing the rivers and causing a public health crisis in places like China, Bangladesh, Indonesia and India.
As a veteran journalist, I spent many years writing about the latest trends in fashion in my former life as a magazine and newspaper writer and when I began working here I wanted to research and write about the business of fashion and how multinational brands operate need to be more transparent and clean up their acts by treating their workers more fairly and humanely and by innovating and creating better ways to produce clothing that doesn't rob the earth of resources or pollute rivers and air.
In my writing, I am hoping to spread awareness about this topic so people will seek out more ethical brands or demand more of the ones they patronize. Journalists aren't doing enough investigative work in this area. If consumers were more educated about this, I am certain they would change their shopping behaviors."
To read Professor Webber's review of RiverBlue – Click Here