The Institute for Social Justice in the Arts @ TCNJ invites you to attend a special event for high school students. This event is free and will take place in the Music Building.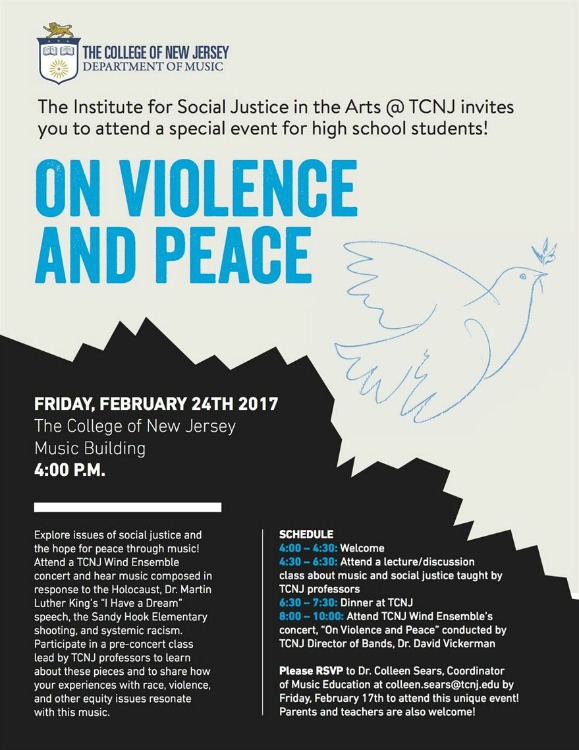 Description:
"Hate cannot drive out hate: Only love can do that."
– Dr. Martin Luther King, Jr.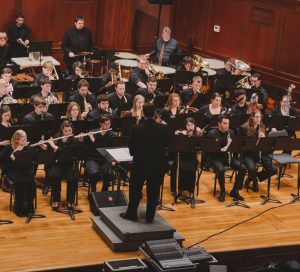 Explore issues of social justice and the hope for peace through music! Attend a TCNJ Wind Ensemble concert and hear music composed in response to the Holocaust, Dr. Martin Luther King's "I have a Dream" speech, the Sandy Hook elementary school shooting, and systemic racism. Participate in a pre-concert class lead by TCNJ professors to learn about these pieces and to share how your experiences with race, violence, and other equity issues resonate with this music.
Schedule
4:00 – 4:30PM: Welcome
4:30 – 6:30PM: Attend a lecture / discussion class about music and social justice taught by TCNJ professors
6:30 – 7:30PM: Dinner at TCNJ
8:00 – 10:00PM: Attend TCNJ Wind Ensemble's concert, "On Violence and Peace" conducted by TCNJ Director of Bands, Dr. David Vickerman
*RSVP required:  Please RSVP to Dr. Colleen Sears, Coordinator of Music Education at colleen.sears@tcnj.edu by Friday, February 17, 2017 to attend this unique event! Parents and teachers are also welcome! Visitor Parking information is available at: parking.tcnj.edu…. Patrons may park in Lot 3 for this event.