For Gloria Yifeng Hu, starting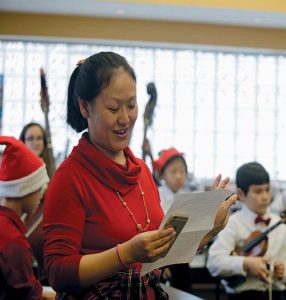 violin lessons in elementary school made sense—early on she could sing in tune, had a good sense of rhythm, and could hum any tune she heard on the radio.
As Hu, an associate professor of communication studies at The College of New Jersey, got more serious about music, even as a youngster in southeastern China, she had many opportunities to perform, and eventually to compete for prizes. But more recently, in her experience with her 8-year-old son, also a violinist, she saw a dearth of performance opportunities for young musicians compared to her own childhood experience and started thinking about initiating a local kids' ensemble.
So she has brought together motivated children in several ensembles, loosely formed to prepare for upcoming concerts. Her musicians, together with some Central Jersey Chinese instrument ensembles, are preparing for a Lunar New Year concert to be held on Saturday, Feb. 11, from 1:30 to 3:30 p.m. at the Hopewell Branch Library, 245 Pennington-Titusville Road, in Pennington.
The Lunar New Year, which is not religious but rather a time to plant seeds, looking toward spring and a good harvest year, is celebrated in many Asian countries. Hu selected to call her festival the "Lunar New Year" rather than "Chinese New Year" to be more inclusive.
"I'm not just doing it for the Chinese community," she says. "I wanted to enrich the whole community, and in the composition of the band, I have included as many different kids as possible."
The mother of a Korean viola player thanked Hu for changing the name, and an originally Korean song will be done in Korean as well as in the version translated into Chinese. "I want them to feel their holiday is also celebrated at this event," she says. "It shows the interplay between Asian cultures.Even though Stonybrook Elementary School in Pennington, where her son goes, has exposed many students to string instruments, Hu has observed that few had performance opportunities beyond private recitals if they had private teachers. She has also seen that Chinese-American boys and girls "haven't been given any chance to be exposed to Chinese folk music, and they are not exposed to different ethnic music."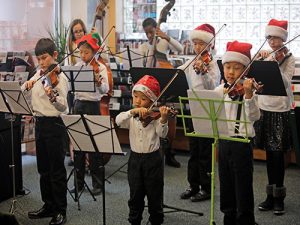 Chinese music, she explains, includes "any works that have Chinese folk music characteristics played by any instruments." It falls into three categories based on content: music for festivals as well as weddings and funerals; music for special occasions and events, for example, dragon boat racing; and music that "express[es] emotions and affections based on different natural scenes."
In March 2016 Hu started the Flowers and the Youth Ensemble, named after a Chinese folk song based on the metaphor that "young people are like flowers—they have hope … they are our future." The ensemble, which originally included mostly Chinese-American youngsters, appeared for the first time at Pennington Day on May 21, 2016.
In a second concert on Dec. 10, 2016, an ensemble performed at Millhill Child and Family Development Center in Trenton, where Hu saw another of her goals coming to fruition, getting young musicians to think about community engagement. "My kids and the Millhill kids interacted, had fun, laughed—and we brought a digital piano that their kids played. Our kids found their music can bring joy to other people," Hu says.
It was at TCNJ that Hu started to make her way back into music—first she accepted a request from the conductor of the student orchestra who was looking for a violinist, seeing it as "an opportunity to force me to practice." Next, she played Chinese folk music with two students in TCNJ's yearly Mystique of the East, an Asian cultural gala.
Noticing that she always tells her students she is a violinist, she came to understand that she is not just an academic. "When I look at my identity, I am a professor, an educator, a mom, but I'm a violinist in my heart and wanted to let my students know that," she says.
So when she decided she wanted to engage more with her community, her deep commitment to music came into play. Hu says, "I was thinking how can I combine what I am good at and what I am passionate about, and what I wanted to do—more community service."