On a Sunday morning late in April, elementary through high school students clustered around a table at the Islamic Center of Ewing. The students were carefully constructing tiny carpets on small cardboard looms, fashioning their designs in the style of traditional Persian carpets. This lesson on Persian artistry is just one in a series of Sunday School classes that 15 students in Deborah Hutton's Islamic Art class taught at the center during the Spring 2016 semester.
Over the course of four Sundays, the TCNJ students explored a variety of topics in Islamic art with the Sunday School youth, including the history and development of Islamic architecture, mosaics and stained glass, calligraphy, and landscaping.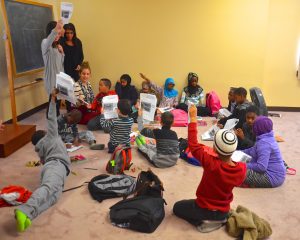 The partnership between Hutton's class and the mosque was proposed by a former student of Hutton's. Working with the Bonner Center, Hutton developed the Community Engaged Learning (CEL) component of the course with the goal of helping her students discover how their studies related to the local community. She also wanted to give her students the opportunity to interact with people from backgrounds that are different than their own.
"The experience was absolutely incredible," said Megan Todd '16, adding that it was an experience that also helped break down misconceptions and dispel myths. "It was a great way to share culture and customs and it led to a greater understanding of one another."
Many of the students in the Islamic Art class are Art Education or Elementary Education majors, giving them another valuable opportunity to practice their teaching skills.
Hutton says she hopes the partnership will continue in future sections of the class.