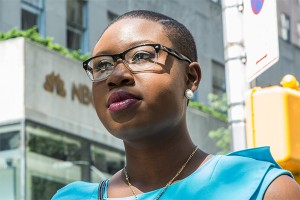 Name: Folake Ayiloge
Hometown: Fords, NJ
Major(s)/Minors(s): Communication Studies and Interactive Multimedia
Graduation Year: 2016
You're wrapping up your internship at The Nightly Show with Larry Wilmore on Comedy Central. What interested you about this internship?
I've always wanted to work at a late night comedy show! It brings together things I am passionate about: television production and satire comedy.
This internship seems like one of those "dream" internships. What would you tell other students about pursuing competitive internships? Any advice?
If I had any advice to give to other students looking for an internship, I would say it is very important to be proactive. You cannot expect opportunities to fall into your lap. Networking is very, very important, especially in this industry. Make yourself stand out in the applicant pool. Show your enthusiasm, your drive. Don't be afraid to reach out to people who could help you get on the right track. The worst thing you can hear is "no," and then you move on to the next thing.
What have you learned in the internship?
I've learned a lot about what goes into creating a show for a large company. There are a lot of pieces to the puzzle behind the scenes that come together to make each half-hour episode. TV production is very fast-paced, and I love the energy.
You've also had internships at NJTV, 94.5 PST, and NBC. What is the value of getting experiences in your field outside the classroom?
I'm currently the Station Manager of TCNJ Lions Television (LTV), where I executive produce all of our TV shows and run workshops in TV production. It's one thing to work on a college station, and a whole other world to work on a full production at a large company. However, LTV has given me a great foundation to apply to working at Comedy Central. Certain things I've picked up from my time in the Kendall Hall TV Studio I've been able to apply at my internship, making production tasks much easier to tackle.
In addition, real world experience allows you to discover things you like and things you don't like. Things that might sound appealing in a textbook could be a different experience for you in practice. Internships allow you to get a feel for the outside world.
How do you balance the 24 hours per week that you're at the show and still being a full-time student at TCNJ?
It's tough! The 24 hours a week there does not include the transit hours to get into New York from TCNJ. In addition to three other courses, I am also working in the admissions office as the Social Media Coordinator of the Ambassador Program, as well as the Station Manager of TCNJ Lions Television. I am always on the move. I use the time on the train sometimes to write scripts and edit footage for my thesis. I'm very driven and I am always working on something! It's all about budgeting your time. I always make time in my schedule to hang out with friends. It just so happens that sometimes hanging out is also getting together and filming!
What do you hope to do with your degrees after you graduate this spring?
I will have degrees in Communication Studies and Interactive Multimedia. My ultimate goal is to one day become a producer, but I don't want to stop writing, editing, directing.  I love film and television, and no matter where I fall, I want to be creating content for the world around me.
Any advice for incoming students?
Education doesn't stop in the classroom. Make sure you join clubs that are relevant to your interests! And befriend your professors! TCNJ has wonderful professors that are truly invested in getting to know their students. If you show your interest, they will help you along the way.