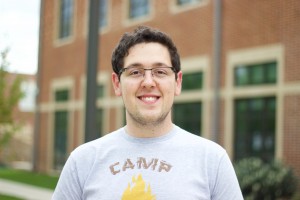 Name: Nick Licitra
Hometown: Verona, NJ
Major(s)/Minors(s): Music and Marketing
Graduation Year: 2016
How did you decide to get a double major in Music and Marketing?
I started first as a music major. I actually applied to the college as a Music Education major and then switched over to a BA in Music. Then from there, I kinda tested the water, tried different things, but ultimately, I decided that marketing is definitely it.
What drew you to marketing?
I've always worked for my mom and dad back in Millburn in our family's small grocery store, and they always had me out on the floor selling products. Most of the products come in from Italy, so people come in looking for certain things that they remember from a long time ago and I would have to direct them towards that or the next best thing. So marketing has been something I've been doing and I never realized what it was until I started taking business courses in marketing, management, finance, all those types of classes. I thought this is totally me, right here. But at that point it was already the end of sophomore year so I had to turn on the jet engines to make sure I could still finish in four years.
For your capstone, you decided to do a project that combined your Music major with your Marketing major. Tell us about that.
I am an avid listener of Spotify. I'm all about Spotify and I think that's the way music industry is going. I think streaming is what you're going to have to get on to if you haven't already. So, I wanted to look at the people who don't pay for Spotify and instead get the ads, and that's where Spotify makes most of its money. But, there's a rise in ad avoidance with increasingly more content out there. There's going to be more people looking the other way, actively clicking out. So I wondered how marketers could use music to amplify the amount of people that they grab, that they expose to their content. I use a couple examples in my paper about how large corporations like Pepsi and Chipotle use these ads that are largely promotional for their products, but at the same time, they also showcase music in a way that people will react to, will actually stay for the entire ad.In your study, you looked at Chipotle's Back to the Start advertisement from a few years ago.
What did you learn from analyzing the music that was used in that video?
Chipotle's Back to the Start video used to play in movie theaters and then it picked up a lot attention so they released it online. The whole first minute and thirty seconds there's nothing about Chipotle at all. There's no name to what you're watching, so you kind of have to figure out what it is talking about. What was cool about it is the song that they chose. The song choice I think is the best thing they could have done. They chose a song that everyone knew, but in a way that not everyone hears it. So they used Willie Nelson to play his country, good-hearted music, but the song is a cover of a Coldplay song. It's interesting to hear that song in a very different style. What's cool about it is in my music history classes we talk about text painting and really painting a picture of what you're trying to talk about with music. In the Chipotle ad, the lyrics are "It's such a shame for us to part, I'm going back to the start," which is like starting over new. Chipotle is kind of recreating their whole image with that song. You know, it's food, it's going into our bodies, we should make it fresh and sustainable. And Willie Nelson is a very big advocate for sustainable farming and helping out the farmers, so he was a good voice for their campaign. It was a very carefully planned marketing campaign.
The type of music you're going to use will affect who's going to listen to it and who is going to stick around for the rest of the ad. Everyone was talking about the Chipotle after that ad, and then it was like, I should go check out Chipotle. That kind of brand awareness is really cool.
What do you want to do when you graduate?
I like seeing relationships of things. I like seeing how things correlate, how things naturally go together and how to make conclusions from them. I would really like to work in the music industry, but on the marketing end of things. My dream job would be working for Nielsen in data analytics as a market research analyst, hopefully in music related data. That would be cool, but we'll see.