On March 28, 2016, more than 200 singers gathered in the Mayo Concert Hall on The College of New Jersey campus for a concert that blended cultures and showcased young talent. TCNJ choir students performed alongside five high school choirs from Japan who came from the region affected by the 2011 earthquake, tsunami, and Fukushima nuclear disaster.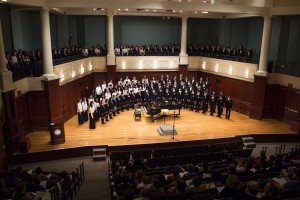 The performance was part of Project Hand in Hand, which aims to support the recovery of the East Japan disaster by using performance to support cultural exchange and education. This was the fourth time in five years that TCNJ has partnered with Project Hand in Hand.
The concert at TCNJ featured performances from each individual choir, in addition to the groups performing several pieces en masse.
"We might not be able to have a conversation with each other, but we can still come together and communicate something beautiful through music," said TCNJ senior Sarah Finnan. "That's really incredible."
The choral groups from TCNJ and Japan also performed together on March 29, 2016, at the Lincoln Center's Rose Theatre with the Philharmonia Orchestra of New York (PONY). With PONY's 80-plus musicians and a chorus of more than 200 Japanese and American singers, this concert brought together the most performers ever assembled onstage at Rose Theater for Mahler's monumental Symphony No. 2 "Resurrection."
"Being a Part of Project Hand-in-Hand is a wonderful experience on so many levels," said Dr. John Leonard, Department of Music Chair and Director of Choirs at TCNJ. "Performing great music with high-caliber professional musicians at one of the world's most celebrated venues, using the language of music to communicate love, compassion and empathy across cultures and languages, and seeing the resiliency in the faces and actions of the young Japanese musicians who join us."
TCNJ choirs have been rehearsing for these two performances since the start of the spring semester.