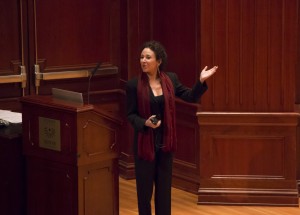 During the Friday, March 11, Brown Bag lecture, composer Andrea Clearfield discussed her work to preserve Tibetan music.
In 2008, Clearfield trekked to the Lo Monthang region of Nepal to study Tibetan folk music. There, she met an aging royal court singer. Traditionally, court music in Lo Monthang has been passed down aurally from generation to generation, but the royal court singer was the last in his line, and his songs were at risk of being lost forever. To preserve this musical heritage, Clearfield and anthropologist Katey Blumenthal began recording the court musician singing traditional court songs. Soon though, others from the community wanted to sing for them and have their songs recorded too.
After all of the recordings were compiled, the songs were sent back to the village on cassette tapes, with boom boxes and batteries so that children could learn the songs and carry on the musical traditions. Children of Tibetan immigrants in Queens, New York are also learning the music as part of a Himalayan preservation initiative and are using some of Clearfield and Blumthal's recordings.
In 2012, Clearfield composed a cantata titled Tse Go La, which can be translated as "At the threshold of this life."
"It is not an authentic representation of the music [I heard and recorded in Nepal], but rather it is a personal response to my experiences and the people I met there," Clearfield explained.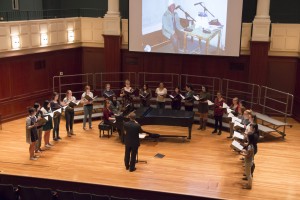 During the Brown Bag lecture, the TCNJ Chorale performed several movements from Tse Go La. One song that the Chorale sang is traditionally performed at dances that would include young people, Shar Ki Ri (Mountain to the East). The lyrics speak of the future: "Don't look to the mountain in the east, but look to the mountain in the west where the sun has not yet set."
In Tse Go La, Clearfield chose the instrumentation of western instruments and the color of Western orchestration, coupled with sounds inspired by traditional Tibetan music. Clearfield said that arranging the music could be quite difficult at times, because the music she heard in Nepal was not always in Western scales.
Clearfield said that as a western composer who had no prior relationship to the culture, she approached her research and her time with the people of Lo Monthang with the utmost respect and gentle footing, inviting others into her process at every opportunity.
In her second journey to Lo Monthang in 2010, Clearfield was able to play one of her earlier works based on her Tibetan music fieldwork, Lung-Ta, for the court musician with whom she started this project using her iPod. She shared that he enjoyed the music and was particularly interested in the western instruments he heard playing, which produced sounds that were new to him. He said that "this was a place where your world and my world meet".
You can listen to selections from Tse Go La and Lung-Ta on Clearfield's website.