Internationally-recognized artist Wafaa Bilal spoke at the TCNJ Center for the Arts Brown Bag lecture on Friday, February 26, 2016. Bilal shared about his experiences developing his works of art, including some of his more provocative works, such as "Domestic Tension," "Dog or Iraqi" and "…And Counting."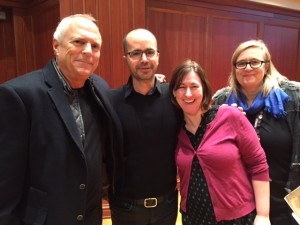 In "Domestic Tension," Bilal spent 31 days in small enclosure at an art gallery in Chicago with a paintball gun aimed at him. Viewers could log onto a website connected to the exhibit, aim the paintball gun at him, and fire. They could also watch him 24/7 through a webcam live-feed on the website. Bilal told students that 14 days into the project, Digg.com picked up the story and the number of people logging onto his website surged. On that day alone, 20,000 shots were fired at Bilal. The exhibit simulated the trauma of living in a war zone, and Bilal said that he underestimated how quickly it would take a toll on him. While more than 70,000 shots were fired over the course of the 31 days, Bilal also said there were people who would log on specifically to keep the gun aimed away from him in an effort to protect him.
Another project that Bilal spoke of was "…and Counting," during which he had a dot tattooed on his back for every Iraqi citizen who was killed in the Iraq war – more than 100,0000 – along with a dot for each of the 5,000 American soldiers who were killed. The dots for the American soldiers were tattooed in red ink, while the dots representing the Iraqi citizens were tattooed in UV ink that is only visible under a black light.
Bilal said that art is supposed to both inform and agitate. He said that while he doesn't set out with the goal of creating controversial work, he thinks artwork that engages audiences in larger conversations about culture and politics will often stir up strong emotions as audiences react and respond to the art.
Following the compelling talk, Bilal took the time to answer questions from TCNJ art students.