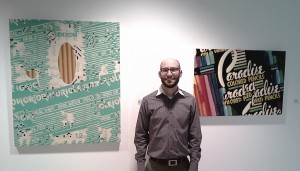 TCNJ Art Education alumnus Scott Samuels '15 has a new exhibit titled "In and Out of Digital Space" featured in the AIMM Building on the TCNJ campus. Scott recently took the time to share about the inspirations behind his work and memories from his time at TCNJ. To see more of Scott's work, visit www.ScottSamuelsArt.com.
Scott's exhibit will be on display through February 28, 2016. 
Tell us about your process for creating the paintings in your current TCNJ Art Gallery exhibit.
"In & Out of Digital Space" takes its imagery from vintage art supplies product packaging. I like the look of the vintage graphic design and logos, and so these images are the source material. I photograph the boxes, and then digitally process and manipulate the graphics in Photoshop. The images contain text, and I like the way the text looks when it is abstracted using the software. Finally, I print the new altered imagery and paint it, taking it out of digital space. The process of painting it adds texture and turns an originally mass-produced graphic into a unique piece of art.
What inspires you/your artwork?
I am addicted to estate sales and flea markets, and so the process of collecting old things has been a main source of inspiration. I like the idea of "processing" what I purchase, and giving an old, forgotten object a new life. You could say the "big ideas" behind my work are recycling, repurposing, processing, and consuming. There's also some historical nostalgia in there. And I like the aesthetics of Pop Art and graphic design, especially logos.
What got you interested in painting?
I have always been an artist, and as a child I worked mostly with drawing media. Around 8th / 9th grade, I first started painting in oils with the Bob Ross beginner set. Since then, my painting practice has been inspired by my collecting and the aesthetics that I enjoy. In addition to painting in oils and acrylics, I also produce mixed-media works and collages, often combining collaged paper with paint. I choose my projects based upon what I would want to hang on my own walls – I try to make art that is bold and colorful, and that incorporates different layers of material.
Are there any artists that you look to for inspiration?
I love the work of the Old Masters: Jan van Eyck, Caravaggio, and Rubens, because they truly showed the world what could be done with oil paint. The textures and colors of Van Gogh's paintings can't be beat. In terms of more contemporary artists, I am fond of the series that Andy Warhol painted with Jean-Michel Basquiat, and I like the mixed-media pieces of Fred Tomaselli and Wangechi Mutu because of their layering and recycling of imagery.
What drew you to studying art at TCNJ?
I transferred to TCNJ from a community college because of the fantastic facilities of the AIMM building, and the great reputation that the Art Education program has. When I attended an information session and portfolio review prior to applying, I was impressed with the presentation given by Lisa Lajevic, the Art Education program coordinator, and some of the art-ed students detailing the lessons they had taught.
How did your classes/professors influence your art endeavors?
TCNJ's professors and art classes always encouraged me to search for my own voice and develop my own ideas, rather than trying to force anything upon me. I loved the artistic freedom to interpret the projects in the context of my own artistic passions, particularly in the Advanced Drawing class I took with Mauro Zamora. The project prompts were very open-ended, and in particular the final project let me create a series of works based on my philosophy of art-making as processing or consuming physical materials.
What are you up to now that you've graduated from TCNJ?
I am a middle-school art teacher and am very happy!
How does your artwork influence your teaching?
As an art teacher, it's important to stay active as an artist and continue to create your own work (time permitting!) because this is where our passion comes from. Before we were teachers, we were artists, so the love of art and the art making process spills over into our instruction. Our own artistic practice is the source of the enthusiasm we bring into the classroom.
Any plans for a future exhibit? 
In August – September of this year, I plan to show my work at Triumph Brewery in Princeton, NJ.
Anything else you'd like to share about your art or your time at TCNJ?
I loved the sense of community I felt in the TCNJ Art Department, and I'll never forget the late nights in the painting or printmaking studio surrounded by creative and driven people!