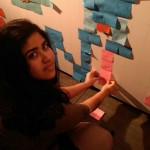 Name: Niveda Harishankar
Hometown: Chennai, India
Current Residence: Florence, NJ
Major: Interactive Multimedia with minors in Graphic Design, Digital Arts, Fine Art and Computer Science
Graduation Year: May 2016
Organization Involvement: ACM SIGGRAPH, Association for Computing Machinery (ACM)
How did you first become interested in Interactive Multimedia?
This was a very circuitous path for me. When I started at TCNJ, I was a Digital Arts major. I liked drawing and designing and thought that Digital Arts was the natural choice for a major. I made the decision to switch to IMM at the end of freshman year to experiment with more things like programming, game design, animation, and technology, in general.   I knew I was in the right place when I took Design Perspectives for Interactive Multimedia (IMM 280), which, for me, was a total game changer. It was really where things clicked and I realized that IMM was the right choice.
To me, IMM means building awesome things. I have built programs, animations, interfaces and experiences. Because the classes and the major are really interdisciplinary, I'm able to explore different aspects of my field. Recently, I have delved into front-end development which is exciting to me because it combines both my technical and design skills.
What are your thoughts on women who are interested in coding?
This is a big movement right now. Personally, I have never felt marginalized or limited in any way because of my gender, although I am becoming more aware of the lack of women in my field. I have been in situations where I am the only female in the class, but it certainly hasn't limited me. I have always felt like my voice has been heard. I hope movements like Girls Who Code can help other girls to have their voices heard as well.
 Who has been your greatest influence or supporter throughout your journey at TCNJ?
Oh my goodness, there are too many—all of them! The entire IMM and Art department has been nothing but supportive of me. Faculty members at TCNJ really take pride in their students and encourage them to succeed. Professor Ault inspired and influenced my thinking through the Design Perspectives class.  With him, I had my "ah ha" moment. Professor John Kuiphoff and Professor Kim Pearson have inspired me just as much, offering guidance inside and outside of the classroom. It would be remiss of me if I didn't mention my wonderful parents and sister who push me to do my best.
 What memory at TCNJ has been important to you?
Working in the Art and Art History and IMM offices, TCNJ Art Gallery, and TCNJ Sarnoff Collection are definitely my highlights. Being nominated as a finalist for the Employee of Year Award in the Celebration of Student Achievement was exciting for me. TCNJ is where I found my grounding and it continued to prepare me for my future work.
Tell us about the three unique projects you've worked on, Trenton Makes Campaign, Solvecity, and Moused.
The Trenton Makes Campaign was my group's main focus for IMM 280 where the classroom met the real world. We considered the complex issues that the city of Trenton was facing and how we could utilize technology to transform the community. The Trenton Makes Campaign is an initiative to bring the residents of Trenton who are "making" to the forefront. Replacing the negative image of the city with the face of residents, their businesses and their stories to reshape the narrative.
Solvecity was a project I worked on as part of an internship that I did with Professor Ault. We wanted to create a cross-platfrom reporting app that would give the people of Trenton a more efficient way to report issues, things like potholes, light bulbs that needed replacing, in their neighborhoods. The app is currently being built and the hope is that it will be ready by the end of the semester. To help promote this and make people aware, we are utilizing various organizations that already exist in Trenton.
Moused is something that I did outside of TCNJ as a freelancer. It is a native android application that allows users to connect their smartphone to a remote computer in the same network. I was the User Interface designer on the project. I used the user-centric approach that I learned while working on the Trenton Makes Campaign to improve the app's experience. Moused is in the app store now!
 What are your future plans?  How have your experiences at TCNJ prepared you for your future?
The future is here! After graduation, I plan to pursue a career as a front end developer and user experience designer. Ideally, I think a tech company or a design studio would be a great starting place. I want to learn as much as I can in the first years after college. I know a strong mentor is something I really want! I've had so many wonderful professors here at TCNJ that have really guided me that I know a mentor is important.
What advice do you have for other students majoring in IMM or prospective IMM students?
For prospective students, definitely come to an IMM open house! They are designed to give you an honest insight into what the major is and what you can do. For current and prospective students, know your professors! At TCNJ, the professors really are here to help you and answer your questions and help you in any way they can- all you have to do is reach out to them! Additionally, take advantage of internships; start looking and applying for them as soon as you can. This is an open field, get out there and see what you like and even what you don't like. These experiences help build your resume and give you more clarity for your future.
What is your favorite TV show?
Wentworth
Movie? 
Black
Book?
Harry Potter. I'm obsessed.
What are your hobbies?
I really love listening to music, Sia is my favorite artist right now. But really, coding and designing is fun for me.
If we opened your refrigerator right now, what would we see?
Authentic Indian food!
If you could have any super power, what would it be?
Invisibility, definitely!