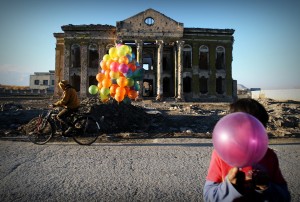 This spring, The College of New Jersey will present Art Amongst War: Visual Culture in Afghanistan, 1979-2014, an interdisciplinary exhibition and series of five public programs that will examine the effects of 35 years of war in Afghanistan on the visual culture of the country.  The exhibition, which will be on view in TCNJ's Art Gallery from March 5 through April 17, will present contemporary Afghan and Afghan-American art, photojournalistic images, and traditional crafts. The programs will include historical documentary films and discussions with a Kabul-based NGO, a war veteran, and the leader of a social development organization in Afghanistan.
The year 2014 marks 35 years since the 1979 Soviet invasion of Afghanistan. From that point onwards the country has been in an almost constant state of armed conflict, and there is now an entire generation of adults for whom war is the primary lived experience of their country. This year is also the scheduled withdrawal date of U.S. troops from Afghanistan. Despite, or perhaps because of, thirteen years of direct military, political, and humanitarian engagement with Afghanistan, the majority of Americans view Afghanistan as a dusty, barren, and broken land, a view constructed from the images encountered in the commercial news media. TCNJ's exhibition and programs seek to widen, complicate, and enrich the public's view of Afghanistan and to probe the cultural effects of long-term war. It will do this by asking two broad questions: What has 35 years of war done to the culture of Afghanistan? And, how do people employ culture to respond to the traumas of war?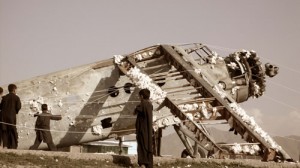 TCNJ's multi-media exhibition will feature contemporary video art, installation pieces, paintings, and drawings, as well as traditional Afghan crafts, including embroidery and war rugs, which incorporate emblems of armed conflict such as guns, tanks, and war planes. Artists in the exhibition include Lida Abdul, Rada Akbar, Roqia Alavi, Gulbuddin Elham, Abul Qasem Foushanji, Mariam Ghani, Moshtari Hilal, Mariam Nabil Kamal, Aref Karimi, Zahra Orna Kazemi, Aman Mojadidi, Najibullah Musafer, Rahraw Omarzad, Abdullah Shayagan, Zolaykha Sherzad, Amin Taasha, and Mohsin Wahidi.
The first public program, which will immediately precede the exhibition opening on March 5, will be Beyond the Images of the Evening News: Afghanistan's Visual Culture in Context presented by exhibition curator and Associate Professor of Art History, Dr. Deborah Hutton.
Subsequent programs will include on March 19, the screening of History of Histories: Afghan Films, 1960-Present, a compilation of fiction films, newsreels, and documentaries from Afghanistan's national film archive compiled by artist Mariam Ghani; Kandahar Treasure: Empowering Afghan Women One Stitch at a Time will be presented on March 26 by Rangina Hamidi, activist and founder of Kandahar Treasure, an enterprise dedicated to empowering Afghan women by reviving traditional crafts; on April 2, artist and veteran David Keefe will discuss the mission and activities of the Combat Paper Project, which helps New Jersey vets tell their stories through a unique paper and print making program; and on April 9 there will be a presentation by Benafsha Tasmim on Skateistan, an NGO based in Kabul that empowers Afghan girls and boys by teaching them to skateboard. Times and locations for all events are available at www.tcnj.edu/artgallery.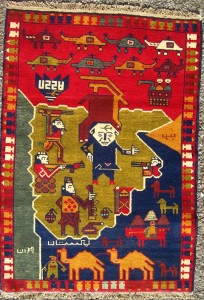 The exhibition and programs have been developed by Dr. Hutton and Emily Croll, director of the Art Gallery. They have been assisted by an Advisory Committee that includes Dr. Jo-Ann Gross, TCNJ Professor of History; Dr. Marla Jaksch, TCNJ Assistant Professor of Women's and Gender Studies; Gregory Thielker, TCNJ Assistant Professor of Fine Art; Dr. Susan Ryan, TCNJ Associate Professor of Communication Studies; Dr. Marcia Taylor, TCNJ Associate Professor of Art Education; and Jawan Shir, Ph.D Candidate at the University of Pennsylvania.
Art Amongst War has received major funding from The New Jersey Council for the Humanities, a state partner of the National Endowment for the Humanities, as well as a grant from the College's Cultural and Intellectual Community Program. TCNJ's Art Gallery exhibitions are also supported in part by the Mercer County Cultural and Heritage Commission, through funding from the Mercer County Board of Chosen Freeholders and the New Jersey Sate Council on the Arts/Department of State, a partner agency of the National Endowment for the Arts.
TCNJ Art Gallery is located in the Art and Interactive Multimedia Building (AIMM) on the campus at 2000 Pennington Road in Ewing.  All gallery exhibitions and related programs are open to the public free of charge. Gallery hours are Tuesdays, Wednesdays, and Thursdays from 12:00 until 7:00, and Sundays from 1:00 until 3:00.  For more information about exhibitions and programs and for directions and parking, visit tcnj.edu/artgallery or call 609-771-2633.