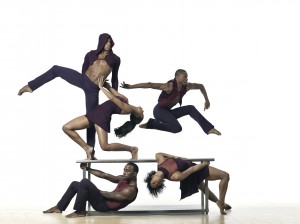 The College of New Jersey Center for the Arts is thrilled to be hosting The Philadelphia Dance Company (PHILADANCO), who will be on campus on Friday, September 20, 2013, for an afternoon lecture from 11:30-12:20 in Mayo Concert Hall and an evening performance at 7:30PM in the Kendall Main Stage Theater.
The lecture, which is free and open to the public, will be presented by Joan Myers Brown, Karen Callaway Williams, and Risa Gary Kaplowitz. Ms. Brown is the founder and Executive Artistic Director of PHILADANCO. This past July, she was nationally honored and recognized by President Barack Obama, who personally awarded her the 2012 National Medal of Arts for her contributions as a dancer, choreographer, and artistic director. She will be speaking about her experiences in dance, and lead a discussion on the historical and cultural implications of dance, the development of African American dance, and how gender roles are portrayed through dance. This is a great opportunity to ask questions in an intimate setting, and all are welcome to do so!
Ms. Karen Calloway Williams is most notably distinguished for being both the first African-American female tap dancer and dance captain in "Riverdance – The Show" as well as the only African-American female tap dancer and dance captain in "Riverdance – On Broadway." She is a nationally and internationally renowned professional soloist tap dancer, a second generation member of the African American dance group Silver Belles, and a special guest artist and teacher featured on Sesame Street. Ms. Williams is also the author of three children's books, "Rhythms for Ruby," "Gabriella's Tap Shoes," and "Gabriella and the Tap Dance Floor."
Ms. Risa Gary Kaplowitz is Adjunct Professor of Dance at The College of New Jersey and the founder of the Princeton Dance and Theater Studio and DanceVision, Inc. She is a former principal dancer with Dayton Ballet and member of Houston Ballet and Manhattan Ballet. She has also performed with Pennsylvania Ballet and Metropolitan Opera Ballet and as a guest artist with many companies nationwide. Ms. Kaplowitz has choreographed more than twenty pieces, and her original full-length ballets, "The Secret Garden" and "The Snow Queen," premiered at the College with DanceVision in 2008 and 2011, respectively.
That evening, PHILADANCO will be performing company and audience favorites such as Enemy behind the Gates and A Rag, A Bone and A Hank of Hair, a tribute to the athleticism of the company and breathtaking diversity of their programs. Their repertory may also include the works of world-renowned choreographers such as Milton Myers, Elisa Monte, Ron K. Brown, Lynne Taylor Corbett, and Jawole Willa Jo Zollar to name a few.
Tickets for the performance are $15 and are available online at www.tcnj.edu/boxoffice and will also be sold at the box office in Mayo Concert Hall immediately following the 11:30 lecture. For more information on the free lecture series, please visit www.tcnj.edu/bbs. This event is co-sponsored by Synergy Dance Team and SAF funded.