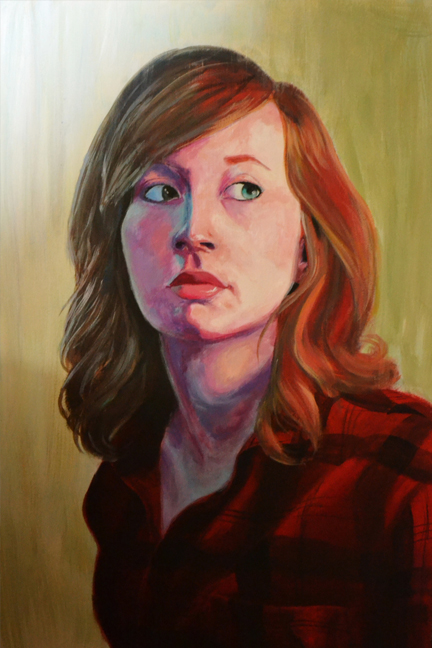 The Department of Art and Art History and the School of the Arts and Communication are thrilled to announce that the 2013 Thomas George Artists Fund Award was given to Shannon Ehrola (BFA, 2013) to support her engagement in drawing and painting directly following her graduation from TCNJ. The $5,000 grant enables a young artist with exceptional promise, whose work is based in drawing and painting, to focus on his or her craft for several months after college. Ms. Ehrola states, "The period immediately after graduation is the toughest time for an artist.  There is a struggle between doing what she must to maintain an income to support herself and the continued exploration of her own artistic vision and voice."
She continues, "With this grant, I will [pursue] my exploration in portrait painting. My goal is to create paintings on a much larger scale in traditional mediums using what I have learned from digital and recreate the technique on wood and canvas. This grant will provide the funding for the purchase of all necessary materials to make this possible and will allow me to continue to explore my artistic vision after graduation."
Ms. Ehrola was encouraged to apply for the grant by Fine Arts Professors Elizabeth Mackie and Anita Allyn, both of whom she looks to for support, mentorship, and guidance. As for her future plans, Ms. Ehrola simply desires to make art. She'll spend the next year or so honing her craft, building a portfolio and, eventually, applying to graduate school.
"When I'm asked what advice I would give new and emerging artists I always tell them to draw. Draw every day, draw for hours. The more you sit and practice, the more you will be able to achieve."
Ms. Ehrola will be part of "Thirteen," an exhibition that celebrates the achievements of The College of New Jersey's graduating BFA candidates running in the TCNJ Art Gallery from April 24-May 17, 2013. Her work can be viewed at http://shannonehrola.com.