Calling All High School Students! Turn your big ideas into even bigger works of art at The College of New Jersey's free summer photography workshop, July 12-16!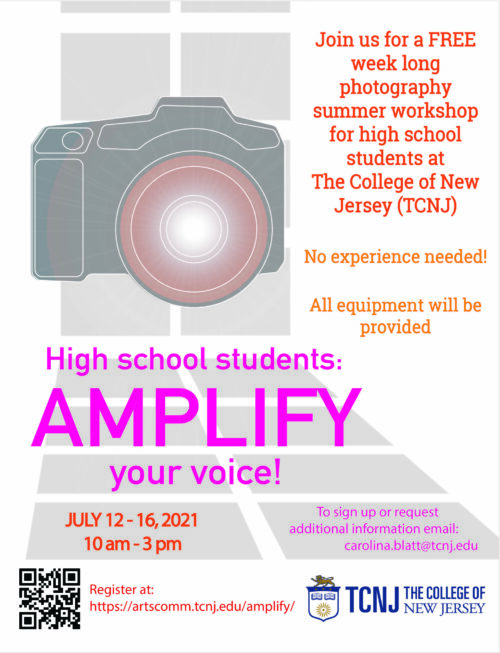 During this week-long studio workshop, you will work alongside faculty and students in TCNJ's School of the Arts and Communication, and learn how to use the arts to amplify your visions and voices.

During the workshop, you will have access to studio resources, including cameras, computers and other digital photography equipment, in order to produce large-scale public artwork that will be displayed in an outdoor exhibition at TCNJ Art Gallery and the Art and Interactive Multimedia Building this fall 2021.
Registration is now full!
Dates and Times
The summer workshop will run Monday, July 12 through Friday, July 16, 2021, from 10 a.m.-3 p.m.
Study
Students have the option to participate in a voluntary study to learn more about the ways collective art-making influences how high school students think and feel about themselves and work with others.
Required Equipment
No equipment needed!
Food
Please pack a lunch and snacks.
Health and Safety
In order to ensure the continued health and safety of TCNJ's community members and guests, all participants must take Roscoe's Pledge and adhere to the following guidelines: 
If you or someone you live with are showing symptoms or feeling ill, please do not attend the workshop. If you have been exposed to COVID-19 in the last 14 days, please do not attend the workshop.

Each campus guest should download the

TCNJ Roar

app

for iOS

or

for Android

users and answer any prompts when loading the app; each guest must complete the Daily Self-Checkup and

take a screenshot of the last screen

, verifying clearance.

Pack a

CDC-recommended face mask

for each guest.
Questions
Please direct all questions to carolina.blatt@tcnj.edu
This program is funded by the Mercer County Local Arts Program, and The College of New Jersey's MUSE (Mentored Undergraduate Summer Experience), and SOSA (Support of Scholarly Activities) programs.