Editor's Note: This year's MUSE (Mentored Undergraduate Summer Experience) Poster Session, held on Sept. 15, featured a handful of projects within the School of the Arts and Communication. Below is one of the featured projects. 
Professor of Fine Art and Photography/Video Elizabeth Mackie, has a fascination with water and art, working on projects with paper, fabric, and video to replicate the way water looks and moves. After working on a fabric project on the Delaware River before the coronavirus pandemic, she decided to create a paper piece imitating the river.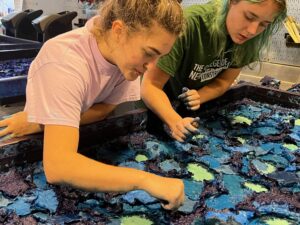 Mackie introduced this project to the MUSE (Mentored Undergraduate Summer Experience) program. She recruited and mentored Michaela Moran, a senior fine arts major, and Nicole Molnar, a graduate biology student. The two students had previously known each other through a printing class, and Mackie met Molnar through an art and ecology class. Despite never having a class with Moran, Mackie chose her to be part of the MUSE project after meeting at AIMM After Dark, the School of the Arts and Communication's end of the fall semester celebration last year.
"When I'm selecting people, I think 'Who's going to really work well together? Who will have the energy and excitement to stay in the program? Who has the skills to be able to do what we're doing?'" Mackie said. "So it takes the right type of person."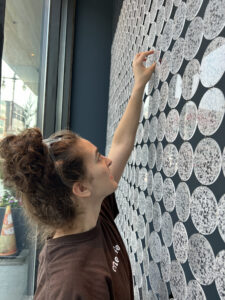 The work consisted of mixing pulp from abaca paper with water and pigments to create dyes, then spraying the dyes onto screens using handmade stencils in order to create waves and texture. Videos that Mackie took of the Delaware River were then projected onto the screen to add more dimension and create an immersive experience.
Along with presenting at the MUSE poster session, this group was also able to set up an installation of artwork in a window in Philadelphia, near Broad St. and Washington Ave. The building is part of a public art space, and the students got to learn about how to install pieces and create an exhibit. 
"I think it was like a really unique experience, being able to do this and work with an artist, especially being able to have a gallery space where we could put up all the work. That's where a lot of our ideas came from; we would install them and see what worked well together and what didn't work well," Moran said.
This project also gave Moran the opportunity to explore career paths and figure out what her future looks like. The MUSE program gives a glimpse of what working a full-time job can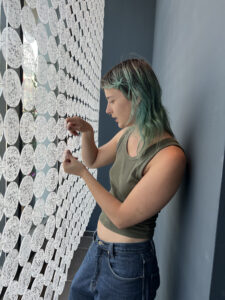 look like with the amount of work and the difficulty of it. 
"I learned that I really do like making art 24/7. I liked having that schedule. I like that being my job," Moran said. "I never pictured myself being a studio artist, but now I could really see myself fitting into that and being dedicated enough to spend my nine to five doing art."
Molnar graduated from TCNJ last spring and now works at Rutgers University. She was considered the "scientist" of the group, as her biology major and fine arts minor came together to help mix the dyes and test them.
Reflecting on how the two students have taken the lessons and skills learned from the MUSE program into their lives, Mackie stressed the benefits and advantages of being a participant.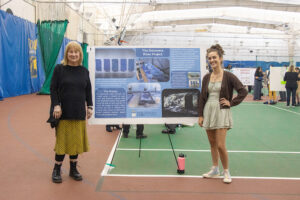 "People who have gone through the MUSE program all are doing really well, when they get out into the world. I find that they're really good employees for people looking to hire someone in the arts. After [MUSE], they're good workers and they're creative, and they have all the different things that are needed. So when you go out there, you may go through several experiences, but you're the easiest people to place."
– Grace Murphy '26