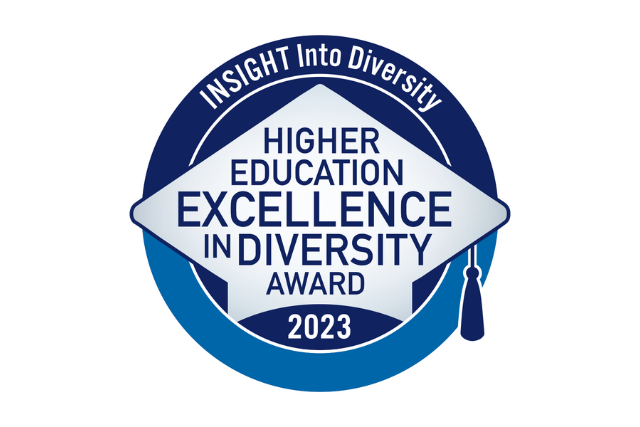 The College of New Jersey has been awarded a 2023 Higher Education Excellence in Diversity (HEED) Award from INSIGHT Into Diversity magazine, the oldest and largest diversity-focused publication in higher education.
The award is presented annually to institutions that advance the core values of DEI as evidenced through mentoring, teaching, research, hiring and promotion, recruitment, retention, and other campus priorities.
"Creating an inclusive campus is essential to our mission as a public institution of higher education," said James A. Felton III, TCNJ's vice president for inclusive excellence. "This national recognition reflects the amazing efforts on the part of the many students, faculty, staff, administrators, trustees, and alumni who are committed to promoting inclusive excellence across the institution."
The 2023 award reflects an ongoing effort by the college to prioritize the fostering of a campus culture where all students, faculty, and staff can thrive. Among other accomplishments, TCNJ's inaugural "We Are TCNJ: A Strategy for Inclusive Excellence" is focused on three key areas: Access and Success, Climate, and Policy.
Several recent achievements under the plan include a new college governance committee on inclusive excellence; a comprehensive faculty diversity recruitment initiative; a second iteration of a campus climate survey; and participation in several national organizations for men of color initiatives and first-generation students, respectively.
"The HEED Award process consists of a comprehensive and rigorous application that includes questions relating to the recruitment and retention of students and employees — and best practices for both — leadership support for diversity, campus culture and climate, supplier diversity, and many other aspects of campus diversity and inclusion," said Lenore Pearlstein, publisher of INSIGHT Into Diversity magazine. "We take a detailed approach to reviewing each application in deciding who will be named a HEED Award recipient. Our standards are high, and we look for institutions where diversity and inclusion are woven into the work being done every day across their campus."
For more information about the 2023 HEED Award, visit the INSIGHT Into Diversity website.
---