The Signal, TCNJ's award-winning, student-produced, weekly news organization, has officially resumed print production, breaking a hiatus that began in March 2020.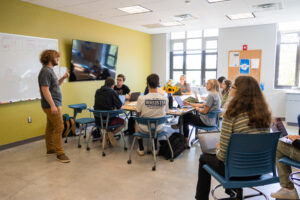 "Our place on campus was severely diminished by COVID," said Editor-In-Chief Mike Sherr, a senior political science major. "As long as I've been here there has never been a print paper, and because of that, not a lot of people knew we existed. We were doing all of this work and it went unread. I didn't want that for myself or anyone else."
Last spring, the staff reached out to the School Publications Company to work out specifics on what it would look like to start up again. They met with a consultant from the company who offered to train The Signal staff on Adobe InDesign for free. 
"It was so helpful," Sherr said. "All of the editors had to be there; section editors, the two managing editors and myself.
After receiving the training and consulting with a number of alumni who were involved with The Signal during their time at TCNJ, they released their first print edition on Aug. 25 — a special issue to welcome first-year students and share some tips to living on campus. 
The paper will be printed every other week which means that the section editors, managing editors and editor-in-chief meet biweekly for production days in the new Journalism room in AIMM 227. Students are encouraged to join them during a production day to observe and learn about the process of designing a newspaper and how to properly use InDesign. 
Aside from honing in on writing skills and time management, students have the opportunity to gain hands-on experience in the process of producing a print newspaper.
In the fast-paced world of journalism, unexpected problems often arise. Through observing print production, and writing for the newspaper in general, students will learn to adapt, solve problems creatively and maintain composure under pressure.
"Plus, they'll have physical clippings when they go to get a job," Sherr said. "Having the ability to say you are already published is worth so much when walking into an interview."
It is also a great way to make connections and network. As Sherr shared, the staff members often spend countless hours together in the room working on the newspaper. 
"It's honestly building back that community that used to be a big part of The Signal," Sherr said. "Having in-person meetings now in the new office and being in print where all of us are together for hours, it's amazing. Everyone is more than welcome to come."
Sherr is not a journalism major, but he has been involved with The Signal since his first year at TCNJ. He encourages anyone to get involved, but especially students who are interested in writing.
"If I could go to every journalism class and ask why they are not writing for The Signal I would," Sherr said. "Not only will it help us, but it'll help you in the future."
Learn more about The Signal.
– Riley Eisenbeil '24