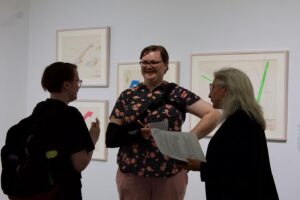 The fall 2023 TCNJ Art Gallery Exhibition, "Off Kilter, On Point: Art of the 1960s From the Permanent Collection," opened on Sept. 13 with a special presentation from Dean of the School of the Arts and Communication Pamela Barnett. The collection from the Gregory Allicar Museum of Art in Colorado State University, is open at TCNJ until Oct. 29.
"The exhibition showcases a wide range of media and styles, from abstraction to pop art, and presents novel juxtapositions that reflect the tumult and innovations of their time," described Lynn Boland, director and chief curator of the exhibition, according to a sign on display inside the gallery.
Barnett shared how the exhibition does not represent the liberation movement of the 1960s, which she has examined through her work. Instead, Barnett described the exhibition as representing the 1960s as a time of "unabashed consumerism, the golden age of advertising, and there's also a lot of interest in technology." Some pieces include a paper Campbell soup dress, an Andy Warhol receipt from a restaurant, and 3D sculptures.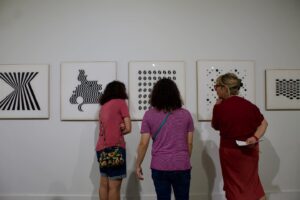 The attendees of the opening participated in an activity led by Barnett, in which they wrote down words the different pieces made them think of or feel. She then asked everyone to reflect and analyze the meaning of these words and why they came to mind. Some popular answers describing the pieces were "the American Dream," "vibrant," and "ordinary excellence." 
Barnett also spoke on the accessibility of the gallery to the TCNJ community and its importance, after telling an eye-opening anecdote. In the story, she met a man at the La Salle Art Museum opening in Philadelphia who loved going to art museums, but had only been to one and was unable to go to another since. This interaction emphasized to her the importance of art being accessible, and encouraged TCNJ students to be aware of that when they visit the gallery.
"One thing that I hope to inculcate in you and inspire in all students is not that self-defensiveness but an attitude of generosity and curiosity," Barnett said.
The exhibition gives a creative and unique insight into certain aspects of living through the 1960s. This is done through multiple styles, techniques, and mediums, rather than being a fully uniform exhibit showcasing only one artist or one style. It is hoped that because of this, those who visit the gallery can learn more about the time period and the art.
"I hope that as you interact with this exhibition and with other art, that you'll learn more about the art movements that are represented here," Barnett said. "Maybe you'll learn more about the 1960s, and maybe you'll also learn more about yourself."
TCNJ Art Gallery is featured on the first floor of the AIMM Building. Gallery hours can be found on the TCNJ Art Gallery page. 
–Grace Murphy '26