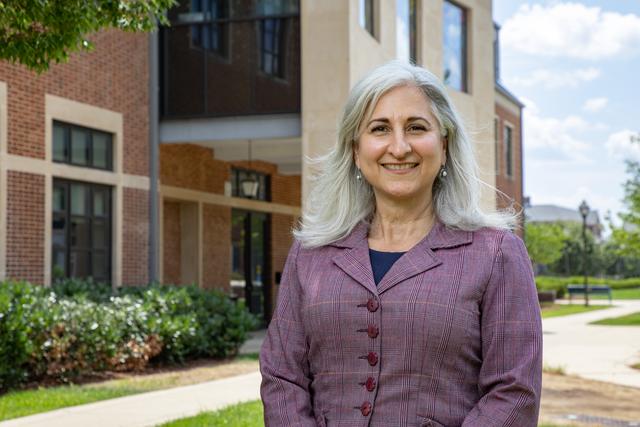 Let's get to know Pamela Barnett, TCNJ's newest academic dean.
Q. What drew you to TCNJ?
A. TCNJ was like a magnet drawing me in. In 2022 I was invited to TCNJ to lead a diversity, equity and inclusion program, and then the next week to give a keynote address "How Good Teaching Can Change the World" at the college's Inaugural Excellence in Teaching and Learning Summit. I met such knowledgeable and passionate educators; we had rich conversations. I also took note that TCNJ was investing in the very things that give my professional life purpose: transformational teaching and learning in diverse and inclusive educational environments.
Q. Why is studying the arts important?
A. My academic work, whether writing about literature or interpersonal communication, is looking at the same question: what does it take to move people beyond narrow self-interest and toward deep consideration of the experiences, perspectives, worldviews and needs of others? If we want to live in a diverse and healthy democracy, that question is critical. These disciplines have an answer. They are the fields that require us to attend closely to the expression of others — whether their words or stories, their images or designs, or music. When we study and engage these expressions, we expand and we deepen. I think we become better humans when we push ourselves to understand and empathize with others, sometimes across differences of, let's say, gender, race or nationality. Sometimes across the very ages!
Q. What would you say to a parent who may be apprehensive about their child pursuing a degree in the arts?
A. At admissions events I often ask parents and guests to raise their hands if they are in careers they never imagined when they were in their late teens. Almost all hands are up. So, we aren't preparing people for specific jobs. We don't even know the jobs of the future! Though I expect many of them will require strategic use and management of AI. Our Arts Comm graduates are the creators and innovators, they are at the cutting edge of technology. They are uniquely prepared to envision new possibilities and to flexibly adapt to the demands of the future.
Q. You've been on campus for a month now. What have you found most surprising?
A. I am surprised by how often I talk with colleagues whose stories start at TCNJ. Many graduated from college here, went on to graduate school or other jobs, and found their way back. They love it and consider it home and give heart and soul to the work. TCNJ changed their lives and I often hear that they want to create an equally rich educational experience for the next generations of TCNJ students.
Q. Where are you from originally? How's New Jersey treating you so far?
A. I grew up in Orlando, Florida and most of my family is there. When we close for winter break, I'll get on a plane to Florida. I've been living in Philadelphia for the last 20 years and I love the city, but I've dreamed of living on the Delaware River for some time now. So, I think this part of New Jersey is fantastic. I look forward to everything from walking the dog on the canal path to visiting Grounds for Sculpture in each season to connecting with arts and communication partners in Trenton and beyond.
Q. How do you like to spend your time when you're not on campus?
A. I am dean of this school for a reason: I love the arts and communication. I like to go to the theater and the orchestra, to museums and movies and galleries. I like to read novels and magazines and the news.
I was a member of the Southwark Queen Village Community Garden in Philadelphia for more than 15 years and I will be growing vegetables and flowers in my new yard in the Garden State.
I also fell in love with this area years ago when I took a day trip to kayak down the Delaware River and then have dinner and drinks in Lambertville. So, I'll be doing more of that!
---
— Interview by Emily W. Dodd '03