Editor's Note: The following essay was written by student Maya McKelvey '25 reflecting on her involvement with TCNJ's Inaugural Asian American Film Festival.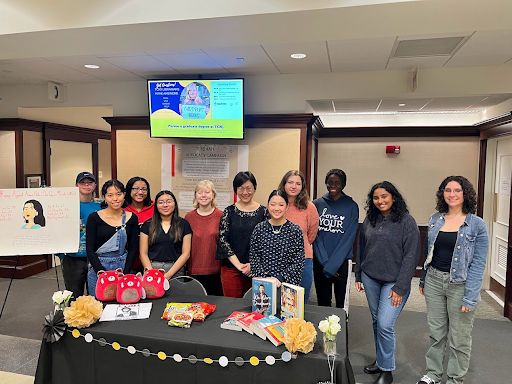 In spring 2023, I had the immense pleasure of being a part of The College of New Jersey's first-ever Asian American dedicated film festival. These were two exciting days of film screenings, discussions, and hard work. From the moment my classmates and I began planning this festival, it was already certain that it would go perfectly. 
This dream of conducting a film festival for TCNJ students and faculty, and other community members to engage in, all became a reality thanks to Dr. Yifeng Hu, who is an associate professor in the Communication Studies department. She has taught many classes that deal with intercultural/racial, emerging media, and health communication. She also manages an Asian American Pacific Islander (AAPI) advocacy group, which strives to bring awareness to AAPI stories and has opened the minds of so many people on the TCNJ campus. Since Spring 2022, the group has done a street interview about TCNJ students' knowledge on AAPI history, a photo exhibit that challenged AAPI stereotypes, a large-scale outdoor showcase that highlighted injustice towards AAPI communities while simultaneously celebrated AAPI achievements, a video interview series of TCNJ AAPI students' experiences and senses of belonging, an interactive museum that featured AAPI musicians, artists, athletes, politicians, and innovations, and many more actions to advocate for AAPI individuals and events (for a summary of the 2022 campaign, see this TCNJ news story and the short documentary directed by Stephanie Shen '22). Dr. Hu has also won many awards and received acknowledgements for her fight in creating diversity and inclusion on campus. 
Dr. Hu has a clear goal and knows what needs to be done, and she is achieving this goal every chance she gets with as much help from TCNJ students as possible. That's why she developed the idea to hold the inaugural Asian American film festival right on campus. She started to plan for this event during the 2022 fall semester. She reserved the library auditorium for two days in 2023, April 29 and May 3, and she gathered a wide assortment of Asian American films and shorts. From there, she was all set to conduct the film festival. Well, not quite. 
Before any of this could happen, she knew she would most likely not be able to do this all on her own, so she created the class COM 487 Student-Faculty Advanced Research: Reel Films on Asian American and Pacific Islander Experiences- Defying Injustice, Invisibility, and Misrepresentation. Then from there, many students from diverse backgrounds enrolled into her course with high expectations to learn and grow in their knowledge of AAPI experiences and history. And they definitely did.
Throughout the semester, Dr. Hu showed her students many films and shorts that fairly, correctly, and effectively represented Asian American culture, history, figures, and real life experiences. We were taught about harmful effects of stereotypes, the Stop Asian Hate campaign, current events surrounding AAPI issues, and the connections between AAPIs and other ethnic/ racial groups. By the time we were ready to start planning the film festival, we were already certain which films and shorts we wanted to display. The class quickly developed a schedule for what would be shown on the two days. The students then delegated themselves into different tasks such as marketing, graphic design, decorations, event set-ups, and budgeting. We all worked together and independently inside and outside of class to make sure every base was clear and precisely discussed. Before long, everything was solid, and the class was ready to hold the first ever Asian American dedicated film festival on campus.
| | |
| --- | --- |
| | |
On April 29, three feature films (Who Killed Vincent Chin?, Rising Against Asian Hate: One Day In March, and Turning Red), a collection of shorts, and two alumni-created short films were screened. After each film, there was a student moderated discussion which allowed audiences to reflect on the films. Two of the discussions involved not only the audience members but Nick Textores '23, who led the "#NotYourStereotype" AAPI Photo Exhibit, in the 2022 campaign, which won an Allen Dawley Justice Award, and Stephanie Shen '22, the alumna who directed the short film "AAPI Advocacy Campaign Mini Documentary." 
On May 3, the film festival included the filmmakers of the feature films Far East, Deep South and Free Chol Soo Lee. These were also the most desired films to be shown at the festival by the COM 487 students. The impact and the engagement that these films have is what makes them so interesting to watch. Even with the heart-breaking stories, there are still inspirational moments in these films that tell us to keep on growing in ourselves and in our knowledge surrounding those around you. These films, in combination with the AAPI advocacy groups' interview stories of AAPI students, were all given time to be seen and appreciated. They were also then followed by student moderated discussions. 
The two feature films' discussions were accompanied by their respective filmmakers: Far East, Deep South's producer Baldwin Chiu and Free Chol Soo Lee's co-directors Julie Ha and Eugene Yi. There were also amazing discussions from the filmmakers, the students, and the community members, who dedicated their time to supporting this film festival!
After another long and productive day, the film festival on May 3 came to an end, and the COM 487 students and Dr. Hu were finally done. Well, not quite again. Dr. Hu will continue to engage TCNJ and other communities about the importance of telling and understanding AAPI experiences. The COM 487 students will continue to grow in their knowledge about AAPI issues. There are always opportunities to keep on learning, and it doesn't stop at a film festival. 
The students and Dr. Hu committed their whole semester and time to this festival, and truly created something so touching and spectacular for everyone who contributed and watched. Special thanks to the filmmakers, who gave us their time, the audience members, who came and engaged in the discussions, Paula Rainey, Linda Dempf, Katy Robinson, wonderful library professionals who helped us with film purchases and logistics throughout the whole process, administrators who supported this project, the students in COM 487, who curated everything from beginning to end, and Dr. Hu, who made all of this possible. This film festival would not be complete without all of them, so thank you. 
If you didn't get a chance to attend, or you enjoyed this film festival so much, please look forward to similar events in the future. Also, follow the TCNJ AAPI Advocacy Group on Instagram to be informed about recent AAPI news and upcoming events on and outside of the TCNJ campus. Remember to continue to be the change you wish to see!