A team of interactive multimedia majors were recently accepted into the TooManyGames Convention's Indie Game Showcase in Philadelphia Oct. 8-10 where they debuted their own video game, Mason and Strings.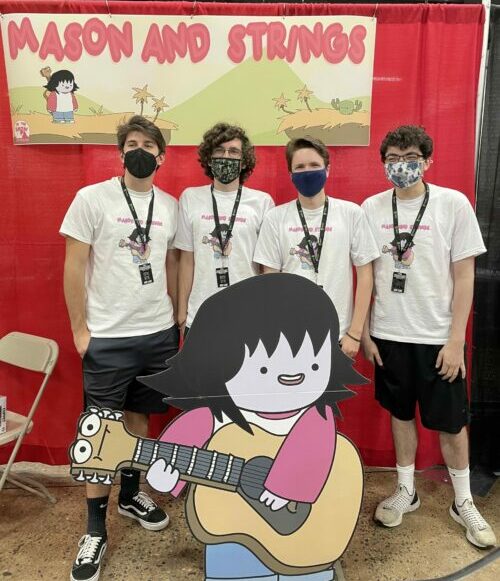 During the three-day convention, Jack Brubaker '22, Dalton Hutchinson '22, who is also a double major in computer science, Patrick Merklee '22, and Josh Shoenfelt '22 shared their creative project at a booth featuring two demo stations, one larger monitor showing off the gameplay, a banner, a cardboard cutout, and give-away stickers of the game's characters. 
"This convention was a great learning experience for us, and it was really amazing to see the public reception of our game for the first time. We got a lot of great feedback from the playtesting, and it was very heartwarming to see so many people of all ages enjoy our game," Merklee said. "It was also great to be able to talk with the other developers at the showcase and we were able to learn so much from them."
Mason and Strings follows the story of Mason and his talking guitar, Strings, as they adventure around their world. Mason uses Strings to swing in the air to travel around and complete levels. Watch the gameplay trailer.
The concept for the game evolved as a class project in Games II (IMM460), taught by Josh Fishburn, chair and associate professor of design and creative technology. 
"We had a semester to create a project that was just supposed to be a prototype," Merklee explained. "We were put in a group together. Things went well, and we went above and beyond what we expected. Professor Fishburn encouraged us to develop the concept further and submit the project to a regional competition. We were all really excited when we got accepted into the Indie Games Showcase at TooManyGames." 
The IMM majors credit their classes for giving them the skills and inspiration to create the game.
"A big part of IMM is that it is a mixed media major," Brubaker said. "Games II brings everyone with different skills together and puts them into groups. We couldn't have done it if we didn't have different people with different skills."
Merklee added, "We had a couple of programmers, an artist, and a musician all coming together to make a cool project. We were able to bring everyone's skills into one thing."
The students are currently developing their own studio, In the Snow Studios, as their thesis project. "We need to market the game and figure out ways to show ourselves to the public, so the convention is the first big step in our thesis," Brubaker explained.
– Madison Bui '24