Ana Camila Gutiérrez '22 discovered her passion for filmmaking after moving from the Dominican Republic to the United States when she was 15 years old.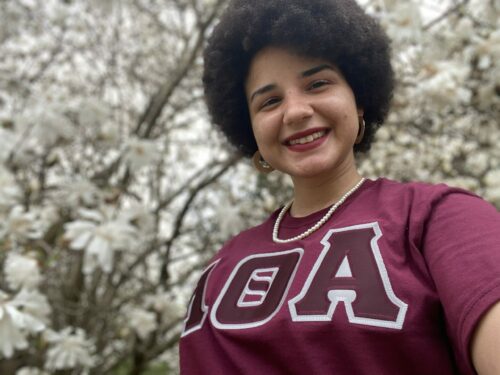 "I realized how the immigrant experience started changing my perception of the world," recalls Gutiérrez. "I wanted to show the world the things we go through while going through these changes."
Gutiérrez, a communication studies major with a concentration in radio, television and film, has produced and screened films that look at the immigrant experience at several local film festivals. 
"What inspires me to be a filmmaker is having the power to expose the human experiences we don't talk enough about," she explains. "Being able to turn real life stories into something not only relatable but also empowering, really fuels my passion." 
Recently, Gutiérrez was named the recipient of the 2021 Polansky Fellowship Award. TCNJ alumni Andy and Maria Polansky established this annual Polansky Fellowship Award to celebrate students involved in projects that show leadership and have the potential to make a difference in the communities they serve. Andy Polansky is a member of the TCNJ Foundation Board of Directors and serves as the Chairman and Chief Executive Officer of IPG DXTRA.
"To be named the recipient of the Polansky award is such an honor. It is concrete proof that hard work pays off," Gutiérrez said.
At TCNJ,  Gutiérrez recently served as associate producer of "I am TCNJ: A Docu-Story Project. The project, directed by Professor of Communication Studies Lorna Johnson-Frizell, is a web series which creates a space for students at TCNJ to discuss race, diversity and inclusion. In this role, Gutiérrez found students to be interviewed by the project's director and coordinated logistics for the production. 
"Ana has a maturity that belies her age and has an acute awareness of her responsibility to the greater good. She directs her energy into projects that are designed to have a social impact," explains Johnson-Frizell, who will serve as the interim dean of the School of the Arts and Communication effective August 3. "She is committed to using her talents in an effort to create positive social change and increased awareness on issues affecting vulnerable populations."
Within the TCNJ community Gutiérrez has been active in Student Government serving in multiple positions including senator for the School of Arts and Communication, vice president of Diversity Equity and Inclusion, the Youth Outreach Chair on the Community Relation Committee. 
A graduate of Perth Amboy High School, Gutiérrez remains active in her hometown of Perth Amboy, NJ. "Being an advocate for social justice is very personal to me. I am currently a full time AmeriCorps member. I serve the Family Assistance Center of Perth Amboy, helping families in need find the right resources. It is a ton of heart work, but getting them the help that they need and seeing them thrive is extremely fulfilling," she says.
In the future, Gutiérrez envisions herself documenting "different aspects of our culture and highlighting the beauty of life as an immigrant." 
"I am also in the process of obtaining my ESL certification. Thanks to TCNJ, this is possible while also getting my major and minor," she adds. "TCNJ makes my professional pursuit attainable and tremendously convenient."
— Meaghan Resta