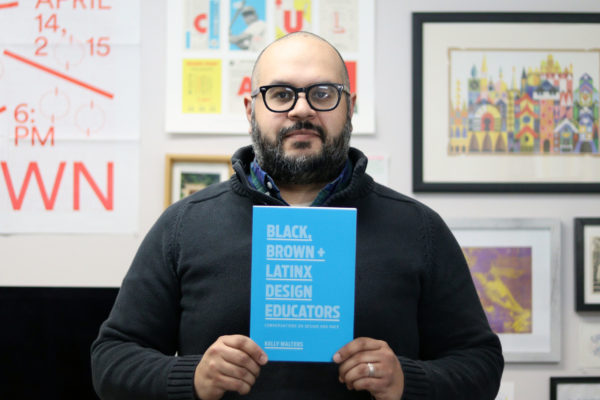 Growing up, Assistant Professor of Graphic Design Jason Alejandro remembers not learning a lot about designers whom he could identify with, as he identifies as Latino, Puerto Rican, and Afro-Caribbean.
"Realizing that in the field of graphic design you don't often hear about Hispanic or Latinx designers. I could not find myself in graphic design history books, there aren't a lot of examples," Alejandro says.
Alejandro's current work is inspired by the importance of representation and the concept of values. He says his work confronts the environment and values which he was accustomed to growing up in a conservative household. 
"Questioning, rejecting, and pushing up against those things. Realizing that there is a much greater amount of inequity and injustice in the world," Alejandro continued. 
As a graphic designer, Alejandro utilizes typography as a form of universal expression, and as a means of emphasizing the importance of words and language. He relies on graphic design as a "translatory device to explore language" and the meaning behind it. 
Alejandro's work was recently showcased in TCNJ Art Gallery's Faculty Exhibition, Envision Us. His work consisted of a series of three posters entitled "Bomba," the name derived from the traditional Puerto Rican music genre and dance. One of the posters had the word "bomba" featured, which is meant to signify both the music gene as well as the word bomb when translated in English. The word bomb being relevant for its historical connection to the twentieth century missile testing in Puerto Rico, which damaged the ecosystem. The other two posters featured words with a direct connection to music. 
"On one level the work is a celebration of Puerto Rico's black history, so much of it which is tied to its African roots, and the slaves that came to the islands and left their mark through music and dance. On another level the work is about the fact that Puerto Rico is still a US colony and has always been a US colony, and exposing that," 
These posters acted as a means of telling his own story, and how through storytelling we connect and learn about one another. 
Alejandro's latest collaboration is with Kelly Walters, author of the new book Black, Brown, + Latinx Design Educators. The book originated from a panel talk at the College Art Association conference in Chicago last year. Alejandro talks with Walters about work and his background, as well as submitted an image of something that was important to him, which was a photo of his grandmother as a young lady, the matriarch of his family. 
"I am honored to be a part of a project with so many amazing educators and designers from all over," Alejandro says, who was recently featured on a virtual panel with the Poster House in NYC. " I hope readers will be able to listen and learn from the voices of educators who might come from a background they are unfamiliar with." 
The event with the Poster House was entitled Conversations on Design and Race: Getting Back to Our Roots. The link for the recording can be found below. 
Before teaching at TCNJ, Alejandro worked at a design agency in New Jersey. He admits that during this work he felt isolated from critical conversations about politics and race. His involvement at TCNJ has opened him to having these conversations with faculty and students alike. 
"I was really open to having these conversations with students, and my presence there could be helpful for students of different backgrounds. I think that there is tremendous financial disparity within our own state, and having a sense of where our students come from and what their backgrounds are, is really important for making them feel heard and understood in the classroom," Alejandro says. . 
— Skyler Bancroft '23