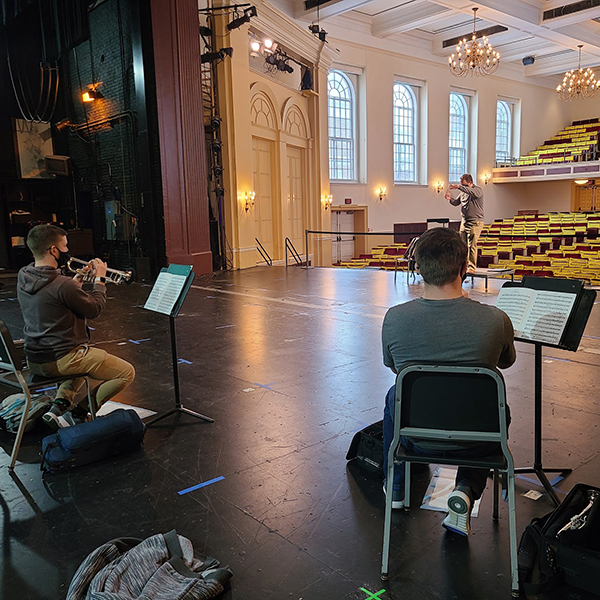 Built in 1932, Kendall Hall has seen many prolific events in history go by. However, in March 2020, it's doors were closed and hallways left empty as the TCNJ community was sent home to stop the spread of the new and uncertain COVID-19 pandemic.
Now, with the spring 2021 semester in full swing, the music has returned to campus. 
"It's really lifted my spirits to hear music in the halls again," says Dale Simon, theater manager of Kendall Hall. "I didn't know how much I would miss it until it was gone."
Although many of the red velvet seats in the concert hall are marked off with yellow covers and the stage floor is taped into several eight-foot-wide sections, the sound of warm-up scales and tuning notes are warming up the building. 
As the TCNJ community begins its staggered return to the campus, new practices and precautions have been put in place to help everyone remain safe and healthy in the midst of the ongoing pandemic. Watch this video to see more.
This was especially true for the Department of Music, who faced a unique challenge due to the collaborative nature of their discipline. The solution required thinking outside the box to allow for small group, in-person rehearsals that followed COVID-19 guidelines put out by the college administration and the CDC. 
"I am incredibly proud of both our students and TCNJ for their commitment to safety," says Assistant Professor of Music and Director of Bands at TCNJ Eric Laprade. "In acknowledgement of the essential role of collaborative music-making, the college has made significant investments to prepare campus for our safe return to in-person music making."
The resulting plan for in-person instruction involved an in-depth study of indoor air quality in performance and rehearsal spaces in Kendall Hall, which includes Kendall Main Stage Theatre and the Black Box Theatre, as well as the Music Building, which houses Mayo Hall. Engineers rebalanced HVAC systems, allowing for better air circulation, abiding by advice from a study performed at multiple universities across the country.
All chairs and music stands are set up more than the recommended six-feet apart, indicated by taped sections on the floor. Students wear special masks while playing and attach a cover to the end of their instruments that catches particles but allows sounds to pass through. Every surface is sanitized between uses, and practices are limited to 30 minutes followed by 30 minutes of vacant space to allow for the air to cycle through between groups. 
"In-person rehearsal is something we all want to do and although these measures are an inconvenience they're necessary," says Department of Music Chairperson and Associate Professor of Music Colleen Sears. 
This system only works if everyone is doing their parts, and TCNJ music students have stepped up to do their part to keep things running smoothly. 
Music students are tested for COVID-19 twice a week at the on-campus clinic and are encouraged to miss a rehearsal if they are feeling unwell. 
"Our students have also really stepped up to make certain we exceed safety expectations outlined by the college," Laprade says.
The students are equally excited to be back on campus making music together. "In person rehearsals have been great," says James Mikula, a senior music education major with a specialization in trumpet. "We are all working together to adjust and be as safe as possible during these crazy times. It feels amazing to be back with my friends smiling and playing music together again."
The music department is also offering an "E-Band" or full slate of remote-only options for students who are still attending classes from home. "We are excited to be offering a unique ensemble curriculum, designed specifically for the virtual setting," says Laprade.
"At first it felt weird to create music in an online setting but now that I've gotten used to the technology I really enjoy the idea," says Theresa Sweeny, a junior music education major, who plays the clarinet in the E-Band. "It is so cool to hear a finished product that sounds like a traditional performance, when in reality we were spread out all across the state and beyond."
While much of the seating in Kendall and Mayo halls are roped off, the department is excited about the performance possibilities that in-person rehearsals provide. 
"Last semester when we were fully-remote, students recorded their parts at home and we created digital performances," says Laprade. "While that work continues this semester, we are also excited to record live performances in our concert halls."
"In many regards, ArtsComm digital has become our new virtual concert hall," he continues." We now have a digital space where we can continue to showcase the talent and artistry of our students."
— Julia Meehan '22