Carly Nocchi '22, a communication studies and political science double major, was named the recipient of the 2020 Polansky Fellowship Award.
A TCNJ graduate who sits on the TCNJ Foundation Board of Directors, Andy Polansky is the Chairman and Chief Executive Officer of IPG DXTRA, a global collective of 28 specialty marketing brands with more than 7000 employees anchored across Weber Shandwick, Golin, Octagon, Jack Morton and FutureBrand.   As a leader in the public relations and marketing service industries, Polansky believes in community engagement. He and his wife Maria ('83) established this annual award to celebrate students involved in projects that show leadership and have the potential to make a difference in the communities they serve.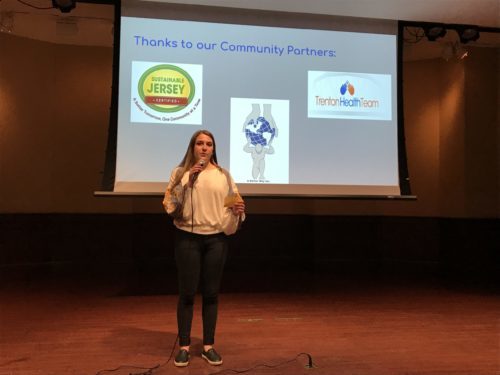 "The competition among the students nominated for this award was stiff. We have really quality students doing exceptional work," said Dean of the School of the Arts and Communication Maurice Hall. "It was a tough choice, but I believe Carly completely fits the profile of the student who exemplifies the full spirit of this award."
One of Nocchi's most notable accomplishments was her research during her year-long community work at a local English school. 
"As a freshman, I began my research work from Dr. Yifeng Hu, [Chair of the Department of Communication Studies] Intercultural/Racial Communication course on The English School, an English as a second language school for immigrants in Lawrenceville, [NJ] which led to an independent study using various ethnographic methods advised by Dr. Hu," Nocchi said.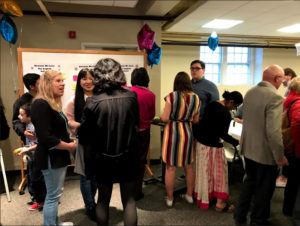 The research paper Nocchi wrote, "Embracing Hardships and Constructing Identities within an English as a Second Language School: An Ethnographic Study," was recently accepted by the New Jersey Communication Association Annual Conference and was recommended for consideration of one of the Best Student Papers. Unfortunately, due to COVID-19, the conference was canceled and the award process was not conducted for the Best Student Papers. 
"I am extremely pleased with the way Carly interacted with our adult English language learners at our school," said Paula Rainey, managing director at The English School. "I am extremely grateful for her interaction with our students, teachers and volunteers. Our school is a community-based school, [and because] her work represents the importance of 'community-building' in second language acquisition, the results of her study [gave] us comfort in knowing that our school continues to enhance the lives of immigrants."
In addition to the paper, Nocchi was also able to create a pamphlet for the school to utilize for their new and future volunteers. 
"The pamphlet detailed ways to break down the superhero complex volunteers often have when working with minority communities and suggestions for them to implement during their time at The English School," Nocchi said. 
Nocchi was also able to make suggestions for the school itself to implement in their ESL programs. 
"The students were able to participate in formal research and were proud to know that discussing their experiences would help other immigrants and ESL schools create a better experience for their students," Nocchi said. "This research gave them the opportunity to critique their school and their experience in America thus far; many of them would have never spoken down about their life in America because the students know as immigrants they are just expected to be thankful that they are here. My research provided them with a forum to reflect on their hardships, experiences, and opinions on their lives in America."
In her short time at TCNJ, Nocchi has already led her peers in significant projects that help her community, peers, and school. 
One project she worked on helped people from local immigrant communities and the Trenton community by providing a safe platform for people who are socially and economically disadvantaged to share their voices. 
"When I was in [the] Community and Civic Engagement for Health and Development course, designed and taught by then visiting professor Dr. Renata Schiavo, I was the co-leader of a community event on health equity," Nocchi said. "This event enabled me to form relationships with local non-profits and discover issues I am now passionate about. This event also allowed me to bring important issues such as health equity, prison reform, and sustainability to the forefront of conversations on campus." 
The "Unnatural Causes: Is Inequality Making Us Sick,?" film screening and an interactive community discussion event brought together students, faculty, and community members from Trenton and Mercer County to talk about health equity while focusing on the factors that affect health outcomes among disadvantaged populations.
"Although a first-year student, Carly immediately became one of the two leaders of a dedicated group of students who organized a film screening and community discussion on health equity as part of our coursework," Schiavo said. "Carly is very committed to community engagement and to making a difference in the lives and health of underserved and marginalized communities."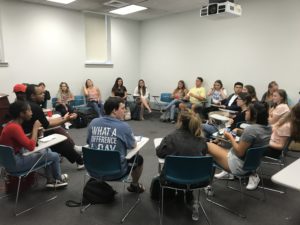 In the Department of Communication Studies, Nocchi has held significant roles in student leadership, including working with the Student Advisory Board, where she and her peers created COMMTuesday; a safe space for students in the department to talk about informative topics that are relevant to communication studies majors. It has created a sense of community within the department and is now a new tradition for all students in the department. 
"At the start of the fall semester, the board decided our overarching goal for the year was to unite the department and better define to people what it means to be a communication studies major. One of the main outcomes of this was the creation of CommTuesdays, an initiative that I co-lead to bring students in the department together," Nocchi said. "Students are able to come and voice their opinions on ways to improve the department, share class and internship experiences, and overall just meet more friendly faces."
Nocchi also led a team of students in planning and delivering a successful virtual showcase of the department for accepted students. 
"I represent the department at Open Houses and Accepted Students Day, where we changed our focus from abstract answers to more hardcore proof by highlighting student work and achievements," Nocchi said. "As COVID-19 impacted our planned showcase for Accepted Students Day, the four of us on Dr. Hu's planning committee knew we needed to transition to a virtual format. It turned into a showcase for accepted students and interested high schoolers from the local high schools. The attendees praised the showcase, a few citing it helped them make their final decision to commit to TCNJ."
Hu has worked with Nocchi during most of her community service and believes she will continue to help her community by creating programs to help foster community enrichment.
"The Polansky Fellowship Award is very competitive. Carly has clearly demonstrated strong leadership among her peers and has already made a difference in various communities that she has worked with," Hu said. "I believe she will continue to show a commitment to creating socially and economically vibrant programs that help build the capacity for community enrichment."
Nocchi was also selected to participate in the 2019 TCNJ Women's Leadership Summit, where she was empowered and able to network with the other strong women from her community. 
"In fall 2019, I was chosen to attend the Women's Leadership Summit through the School of the Arts and Communication," Nocchi said. "This was an incredible experience that made me realize no matter where my career leads me it is my duty to empower other women. I want to help amplify the messages of women, especially in politics where women are underrepresented."
Nocchi said she has been afforded some of the most influential experiences of her life through the Department of Communication Studies. One day she hopes to work not for, but with a community. 
"My community engagement thus far has involved the local immigrant community, residents of Trenton, the Communication Studies department, and hopefully, in the near future young girls in Trenton," Nocchi said. "The common thread that connects all of these is my commitment to providing a safe space for people to share their voice. It is one of my core beliefs that any meaningful change will come directly by those being affected; therefore, it has been my mission in college and will continue to be in my career to never work for a community, but with them side by side." 
Polansky added, "Nocchi's work is making a meaningful difference in peoples' lives on campus and in our local communities. She is a worthy recipient of this year's fellowship, demonstrating how taking initiative and actively engaging around important issues can be a rewarding experience."
-Gabriella Lucci '20