As a master's candidate at Johns Hopkins Bloomberg School of Public Health, Lauren Longo '16 remembers how her friends in her cohort assumed she had an undergraduate degree in public health due to her "familiarity" with what she was being taught in her classes.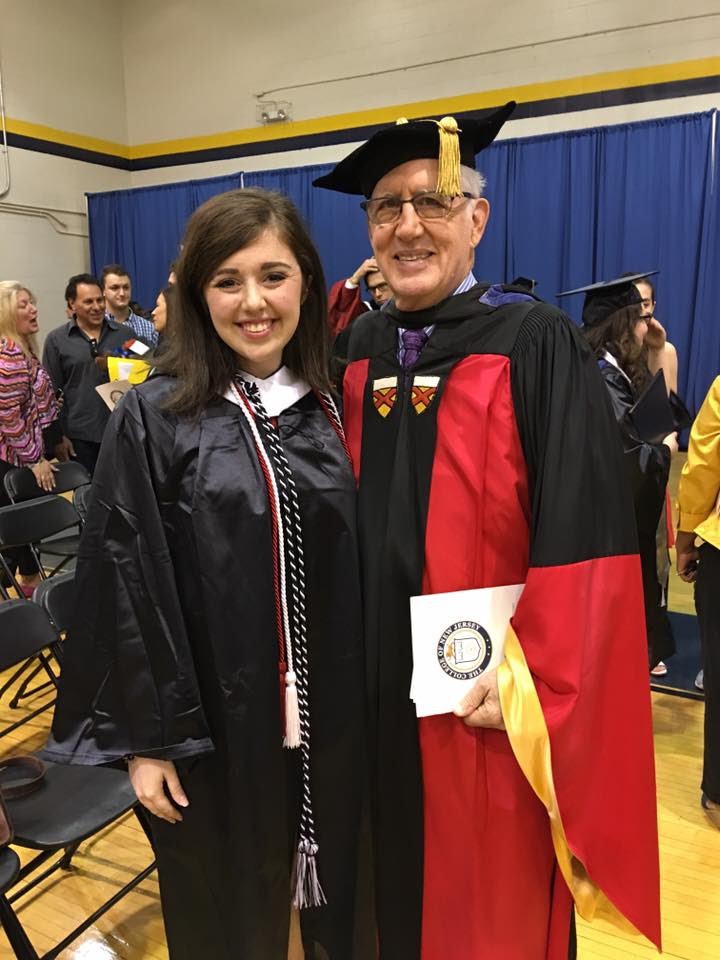 Although the public health major at TCNJ was not yet established when Longo graduated with a degree in communication studies, she said the undergraduate program "taught as a social science and in the context of promoting health, [is] almost as if you are already studying both (health) communication and public health." 
Many alumni who have an interdisciplinary concentration in health communication or a double major or minor in public health have attributed their success to their professors and mentors at TCNJ.
Longo said, "I credit the entire [communication studies] department to helping me thrive, including Drs. Pollock, Woodward, D'Angelo, Steuber-Fazio, 2016 adjunct Tom Hipper, and many others," who helped establish the reputation that helped her get into graduate school. Hipper, a 2007 TCNJ graduate, is also a fellow alumnus of the master's program at Johns Hopkins. Longo said her graduate advisor even observed that "TCNJ always sends really smart, kind, and well-prepared students."
Longo, who completed a Master of Science in Public Health with a concentration in health communication from Johns Hopkins in 2018, works as a health education specialist at the Poison Control Center at Children's Hospital of Philadelphia.
"I absolutely love my job," Longo said. "As I get to help set the agenda for preventing poisonings through public health programming, engage in advocacy work with city and state government officials, and develop risk communication strategy for communicating about some intimidating topics, like chemical exposures and infectious disease (including COVID-19)."
Longo is among the long list of communication studies students who have successfully graduated and gone on to complete their master's degree programs at very prestigious graduate schools.
Daniel Giovenco '10 graduated from TCNJ with a degree in communication studies with a concentration in health communication and went on to complete both a Master of Public Health degree and PhD at the Rutgers School of Public Health. 
"My concentration was in social and behavioral health sciences. In these degree programs, I studied the ways in which multi-level factors  –– such as behaviors, community characteristics, and health policies –– interact with each other and impact health outcomes, and how [we] can intervene on these factors to improve population health," Giovenco said. 
 Giovenco is a faculty member at Columbia University's Mailman School of Public Health, where he conducts research on substance-use disparities. 
"My recent work has focused largely on tobacco use, vaping, and marijuana use. Specifically, I examine how neighborhood factors, such as retailer density, advertising, and local policies contribute to health inequalities among racial and ethnic subgroups," Giovenco said. 
Giovinco's communication studies courses at TCNJ introduced him to the field of public health. Before taking these courses he didn't understand what public health was or the types of career options that might be possible with a degree in public health. 
"After taking courses in health communication, theories of persuasion, and research methods in the department, I knew that I wanted to continue studying the ways in which effective communication strategies can motivate behavior change," Giovenco said. 
Katie Ward '12, attended Johns Hopkins Bloomberg School of Public Health after graduating from TCNJ, where she received a MSPH in Health Education & Communication in the department of Health, Behavior and Society. During her second year, she worked for the JHU Center for AIDS Research, where she was trained as an HIV tester and counselor.  
"After graduating in 2014, I started working full time for the Johns Hopkins School of Medicine in the Division of Infectious Diseases as a Research Program Coordinator," Ward said. "This work involved developing peer mentor programs and other interventions to link persons with Substance Use Disorders, HIV, Hepatitis C to healthcare services." 
Ward said the TCNJ Department of Communication Studies set her up for success in her field with its collaborative environment and relevant coursework.  
"Drs. Pollock and Hu were inspirational mentors, granting me the opportunity to TA, present at conferences, and develop research projects under their guidance," Ward said. "Even years later, Dr. Pollock supported my interest in PhD programs and I will be starting my doctoral studies at Drexel University, Department of Community Health and Prevention this Fall."
Jenna Bjellquist '14, graduated from TCNJ with an Interdisciplinary Health Communication Concentration within the School of the Arts and Communication. 
"My first health communication role was researching new media applications for the healthcare industry with Dr. Yifeng Hu during TCNJ's Mentored Undergraduate Summer Experience," Bjellquist said. "Studying at TCNJ prepared me for graduate school, and Dr. Hu and Dr. John C. Pollock guided me through the application process. 
Bjellquist said she remained in contact with her TCNJ mentors during and after her graduate studies at the University of Delaware where she received a Master of Arts in Communication. Bjellquist also holds a Medical Writer Certification (MWC) from the American Medical Writers Association. 
"Since then, I've had the privilege of managing publications and writing for medical organizations who are working to solve unmet research needs and improve patient outcomes," Bjellquist said. "My current role is with the Type 1 Diabetes TrialNet (TrialNet). TrialNet is the largest international network of healthcare teams at the forefront of diabetes research supported by the National Institutes of Health. I thank TCNJ for launching my successful career!"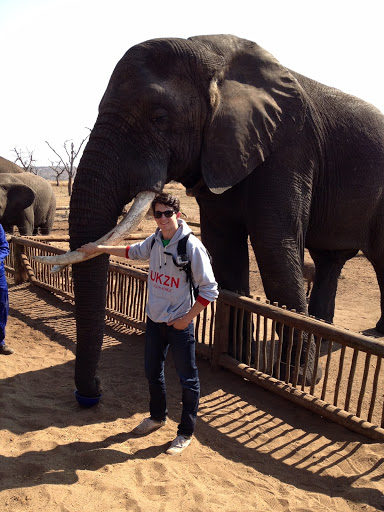 After receiving a  communication studies degree with a public & mass communication specialization and interdisciplinary health communication concentration from TCNJ, James Etheridge '15 went on to pursue a Master of Public Health from Columbia University where he focused his studies on comparative and effective outcomes research. Etheridge serves as a strategy director at McCann Global Health which is the public health and social impact company within the McCann World group Network. In this role, Etheridge oversees research and evaluation, communications planning, and collaborates with team members to craft behavior change solutions for a variety of audiences. He has worked on projects spanning over 30 countries focused on vaccination, HIV/AIDS, WASH, sustainability, alcohol harm-reduction, gun safety, tobacco cessation, nutrition, education, and more, according to his bio. 
"I was inspired to pursue public health after taking COM403: Health Communication Campaigns with [professor] Margolis the fall of my freshman year," Etheridge said. 
Recognizing his interest, Margolis introduced him to Pollock who, at that time, was looking to restart the public health communications club. 
"Together we restarted the club, and from that point on Dr. Pollock challenged me to further explore my public health interest," Etheridge said. "Dr. Pollock was an incredible mentor during and after my time at TCNJ."
Marc Trotochaud '16 enrolled in a health communication master's program at Johns Hopkins Bloomberg School of Public Health after he graduated from TCNJ. For the past year and a half he has been working at the Johns Hopkins Center for Health Security, where he has used his health communication background to an array of research projects ranging from misinformation during the 2014 West Africa Ebola epidemic to the ongoing COVID-19 pandemic.
Through small class sizes, communication studies faculty get to know each student on a first name basis and provide mentorship throughout the student's four years at TCNJ. 
"My time as a student in the Department of Communication Studies at The College of New Jersey gave me the unique opportunity to learn in smaller classes taught by expert professors, partake in rigorous academic research, and to build a network of peers and alumni that have been instrumental in my career development," Trotochaud said.
Trotochaud credits his experience at TCNJ as a major reason for helping him get to where he is today.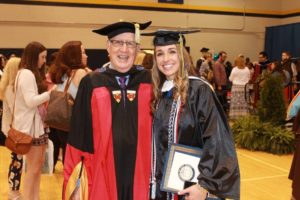 Theresa Soya '16 graduated from TCNJ with a degree in communication studies and then enrolled at the University of Pennsylvania to pursue a master's degree in public health. She went to school part-time while working in the public health field, and graduated in May 2019. 
"During my time at TCNJ, I was lucky enough to have Dr. Pollock and Dr. Farbman as mentors," Soya said. "To be completely honest, I credit them 100% for my success pursuing a graduate career."
Before her senior year, Farbman connected Soya to a colleague of his who worked at a research center at the Children's Hospital of Philadelphia, which led to her completing a summer internship there. After a conversation with Pollock about attending graduate school, where he encouraged Soya to apply for the top tier Master of Public Health institutions, she received her acceptance letter from UPenn.
"Without Dr. Farbman's help connecting me with a fantastic internship or Dr. Pollock's coaching me that I could be a candidate for a high level graduate school, I wouldn't have had the opportunity to go to school at Penn," Soya said. "Like they do with so many of their students, they saw something in me that I didn't even see in myself and pushed me to achieve higher than I had imagined I could."
Soya has worked in research at the Penn Injury Science Center for three years and will be transitioning to a new position at Michael J Hennessy Associates where she will be joining their medical education team in efforts to provide clinicians the opportunity to further their training and be aware of current best practices in their field. 
Pollock has continued to be a lifelong mentor of Soya, encouraging her to pursue teaching. He has connected her back to TCNJ where she had the opportunity this past spring semester to teach research methods of public health as an adjunct faculty member.
"I'm hoping in the near future to begin pursuing my PhD in public health, and my dream would be to become a full-time professor and help students the same when Dr. Pollock and Dr. Farbman helped me," Soya said. 
Several recent communication studies graduates are headed to top public health and health communication graduate schools this fall.
Kristine Spike '20 has enrolled in the Master of Science in Public Health (MSPH) program at Johns Hopkins University –– the number one-ranked school of public health in the US. Spike will begin studies in health communications and work toward a certificate in mental health research this fall.
"I would especially like to thank Dr. Hu, Dr. Pollock, and Dr. Woodward. (All) of them are fantastic professors and their classes taught me skills I will carry with me forever," Spike said. "Whether it was a class on the foundations of formulating messages, or classes that were centered around health, or even the intersection of cultural differences in these areas."
As a career path, Spike hopes to work for a health communication company that focuses on creating health campaigns, preferably, one that has global initiatives as well as local.
"I have always found it important to look at health in terms of the entire world and not just one country," Spike said. "I am so thankful for the Communication [Studies] department for sparking my interests in health communication, something that I didn't even know existed prior to my time at TCNJ."
Katie La Capria '20 double majored in Public Health and Communication Studies at TCNJ and will be pursuing a Masters in Public Health with a concentration in Social and Behavioral Health Sciences at Rutgers School of Public Health.
As a career path, La Capria would like to become a certified health educator and focus on mental health and/or substance abuse. Because she also majored in communication studies, she would also be interested in becoming a health communications specialist.
"The idea of promoting healthy behaviors through the use of social media and different programs and initiatives excites me," La Capria said. 
Before taking the communication courses, La Capria didn't know the direction she wanted to take in public health.
"The communication studies faculty and alumni at TCNJ gave me the confidence and opportunity to pursue a graduate career," La Capria said. "All of my communication studies professors made the subject so enjoyable to learn and many showed me how communications and public health go hand in hand."
Working on a research project with Dr. Hu inspired her to continue her studies. 
"From that project, I learned that I really enjoy doing research and being a part of something that could truly make a difference and elicit behavior change," La Capria said. "Therefore, I decided that I wanted to explore social and behavioral health sciences further in a graduate program. I'm hoping that I will come across more opportunities like this and am excited to keep learning about this area of study that I have become so passionate about."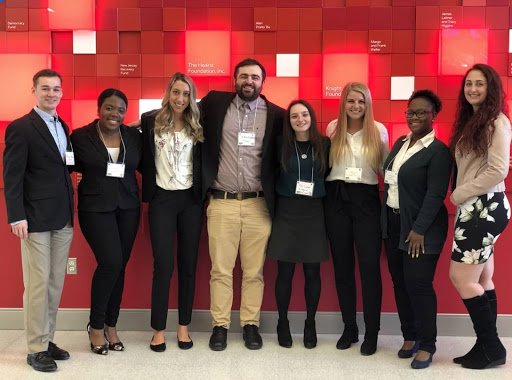 Alessandra D'Ugo '20 transferred to TCNJ as a communication studies major with a specialization in public and mass communication, but was unsure of the path she wanted to take. Pollock, who was her academic advisor, introduced her to the public health program at TCNJ.
"His (Pollock) passion and excitement for the program sparked my interest in health communication and I began taking courses," D'Ugo said. "I then realized this was the path I wanted to take. I declared a double major in communication studies and public health."
After talking to Pollock about master's in public health programs, she was introduced to Theresa Soya, who was her professor for research methods of public health as well as her mentor. Both Pollock and Soya helped her determine which graduate school she would attend.
"I will be attending the University of Pennsylvania in the fall where I will pursue my MPH on the global health track," D'Ugo said. "I am so thankful for all the opportunities TCNJ has given me and I am so excited to begin this next chapter of my life."
-Gabriella Lucci '20