Recently engaged alumni couples share their TCNJ love stories.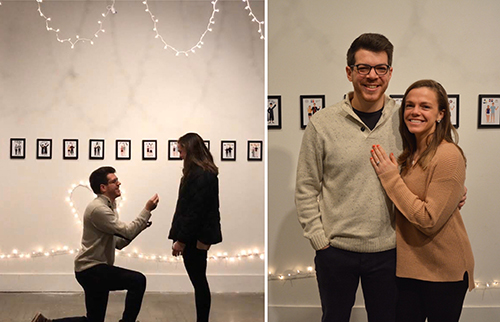 Gabe Randazzo '14 and Kerry Irwin '14 first met as TCNJ Ambassadors in 2012. As undergraduates, Randazzo studied Art Education and Irwin studied Nursing. In November 2019,  Randazzo proposed to Irwin in the AIMM Building where he had created an art installation.
"For the proposal, I decided to create an original 20 art piece installation that essentially documented a timeline of all the different highlights of our relationship over the years.  I'm a homemade gift kind of a guy, so it only made sense to keep with the theme for the proposal," Randazzo said. "I knew that I wanted to capture the rich history of our relationship and I felt this was the best way I could do it. I also knew that I wanted to install the piece at TCNJ to bring our relationship full circle back to where it started."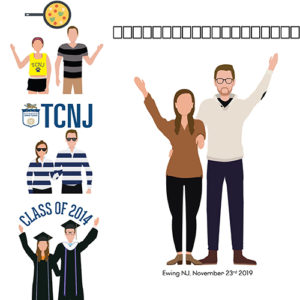 Randazzo worked with Olivia Burton, program assistant in the Department of Art and Art History, to install the 20 piece set and hang lights throughout the installation. Thenext day, Randazzo told Irwin that they were going to an exhibition on campus. "We went through each piece one by one and then at the end I got down on one knee," he recalled.    
Randazzo is an art teacher in West Windsor-Plainsboro at High School South, and  Irwin is a nurse in the Emergency Department at Capital Health in Hopewell.  
A love for music brought the second recently engaged couple together at TCNJ. Ben Reim '19 and Ashley Krebs '19 met their freshman year during a TCNJ Wind Ensemble rehearsal. 
"Because we were both music education majors and in the same class (class of 2019), we took a large amount of our classes for our major together. We were in the TCNJ Wind Ensemble together for all eight semesters at TCNJ," explained Krebs.
On December 14, 2019, Reim proposed to Krebs on a bridge surrounded by Christmas light displays at Longwood Gardens.
Since graduating just last May, Reim has been hired as a middle school band director and Krebs is teaching elementary band at a NJ public school. "We loved our time at TCNJ and are excited to share how it brought us together," Krebs said.
On December 14, 2019, Brandon Gould '12 proposed to Hilarey Wojtowicz '13 in front of The Westwood in Garwood, New Jersey where they had first met at the Union County Scholar Athlete Awards in May 2009. Following the awards ceremony, Brandon had added Hilarey as a friend on Facebook and they connected over the fact that we were both athletes, from Union County, and journalism and professional writing majors at TCNJ. Hilarey remembered how they sat next to each other in Intro to Journalism every Monday and Thursday morning.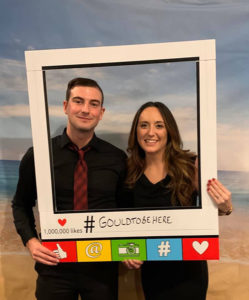 "It was in Intro with Professor (Emilie) Lounsberry that he and I became great friends. I even made him come with me to The Signal (TCNJ's student run newspaper) intro session. I ended up becoming the sports editor of the paper my sophomore year—and Brandon was my sports assistant! We laugh about it now!" Wojtowicz recalled. "Brandon and I stayed great friends and finally started dating after we graduated, with our first date being in the summer of 2013. Now, six and a half years later, he asked and I answered with one of the easiest responses of my life. I truly think we are meant to be together after all this time."
Gould is a sports reporter for NJ.com and Wojtowicz is an editor of The Balance, a personal-finance website, and an adjunct faculty member in the School of the Arts and Communication.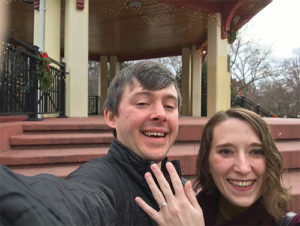 Journalism and Professional Writing alumni Matt Huston '12 and Katie Brenzel '11 announced their engagement on January 1, 2020. The couple worked together at The Signal during their time at TCNJ and were actually rivals for the position of Arts and Entertainment editor. Brenzel ultimately won the position, but Huston won her friendship and later her heart. 
"A little more than 10 years ago, I nervously waited outside my college newspaper's office as the editors deliberated on who would be the next Arts and Entertainment editor. I waited outside with my rival, Matt Huston. (I won, not that it matters.) Fast forward, after several years of friendship and now more years of dating, I'm very excited to say we're getting married," Brenzel said.
Brenzel went on to receive a master's degree in journalism from Columbia and is now a reporter for The Real Deal. Huston is currently a senior associate editor at Psychology Today.  
Congratulations to these four couples that found more than just a great education at TCNJ, but found love, too!
— Rebecca Ramp '19