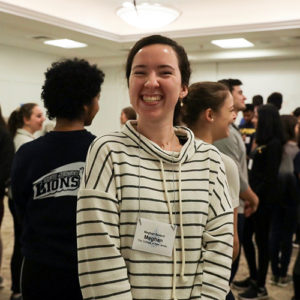 Meghan Bedard, a senior double major in communication studies and Spanish, is currently exploring career opportunities in ocean conservation.
"I want to protect the ocean so future generations have the chance to enjoy its life, beauty, and mystique as I have," Bedard said. "It's urgent that we all take action now, and I hope to be a leader of that movement."
Bedard recently had an opportunity to develop her vision for the future while participating in the LeaderShape Institute through TCNJ earlier this month. The six-day institute teaches students to develop their leadership skills, how to work with others in small groups, and how to develop into visionary leaders. Throughout the week, students develop a LeaderShape Breakthrough Blueprint, a vision and plan of action for participants to implement in their organization, community, or workplace. 
"My vision was for clean oceans and beaches," Bedard explained. "I believe in the potential of my vision and my ability to carry it out, starting with small actions that will eventually grow to have a global impact."
During the institute, Bedard said she was able to hone in on values that she would like her leadership style to reflect. She also learned the importance of building the strength of community and to lean on others for support.
TCNJ's emphasis on the importance of community is what Bedard loves about the college, and it's a value that she felt immediately during Welcome Week. 
On campus, Bedard has developed her leadership skills while serving as president of the Spanish Club and as one of the assistant coordinators for the WLC (World Languages and Cultures) Oral Proficiency Program. She also interns at a solar company where she translate various customer communications from English to Spanish. 
"I aim to be a leader who fosters an environment of open-mindedness, respect, and unity. These are just a few attributes that can contribute to a strong community and a world in which positivity can thrive and great impact can be made," Bedard said. "Everyone can be a leader. It's about working together and understanding that every single person adds value to the group and bringing this all together creates great power."
Erica Kalinowski, assistant dean of the School of the Arts and Communication, also participated in this year's LeaderShape Institute.
"I look forward to connecting with Meghan and the other LeaderShape participants to further encourage and support their visions," Kalinowski said.
— Meaghan Resta