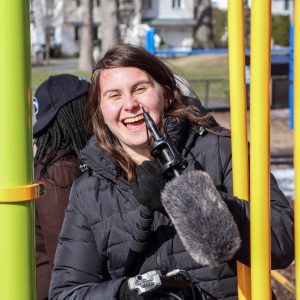 Name: Sarina Sokoloff
Major: Communication Studies (Radio, TV, Film)
Hometown: East Windsor, NJ
Year of Graduation: 2018
Student Spotlight: Sarina helps the Communication Studies department by giving tours during open houses and answering questions about the major and TCNJ in general. She is also highly involved with the campus television station and has been working on independent studies with friends to produce short films. She has held multiple internships in the past four years relating to the television and film industries.
What are your plans after graduation?
I want to get a job in the television/film industry while creating original content with my friends on the side.
What advice can you offer incoming students?
Get involved and always be willing to learn. You get out of college what you put into it, so constantly push yourself to do better and take advantage of the opportunities presented to you here.
What is a memorable experience you had in the School the Arts and Communication?
Joining Lions Television and being a highly involved member for four years. It is where I learned how to produce content, it has helped me to do things I never thought I'd be capable of, and it has given me friends that are amazing to work with, and who I can't wait to keep working with after we graduate.