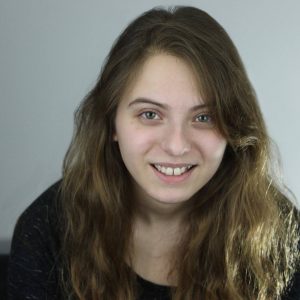 Name: Ellie Schuckman
Major: Communication Studies (Radio, TV, & Film)
Hometown: Fair Lawn, NJ
Year of Graduation: 2018
Student Spotlight: Ellie is actively involved with the Communication Studies department, aiding professors, working open houses, and giving tours of the TV studio and radio station. She has also made several short films, has held multiple internships, and is a leader in Lions Television.
What are your plans after graduation?
After graduation, I want to work in TV production. I also want to continue making short films with my friends.
What advice can you offer incoming students?
The absolute best advice I can give incoming students is to join clubs, push yourself to try new things, and have an open mind. Break the bubble of your comfort zone and in doing so, you will have ample opportunities for success.
What is a memorable experience you had in the School the Arts and Communication or what does the School mean to you?
I would say my involvement with LTV has been the most memorable of my college experience. I've not only grown as a person, but because of the club I found my passion and it completely changed my entire career path. I've produced content — both for television and film — that I never imagined I would have the opportunity to create. I've met my closest friends through LTV, and have found the group of people I want to create content with for years to come.