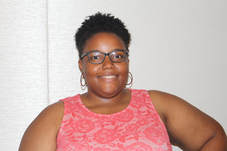 Name: Brianna Sheppard
Hometown: Trenton, NJ
Major/Minor: Communication Studies with Radio, Television, & Film Specialization; Minor in Women's and Gender Studies
Graduation: May 2018
Student Spotlight: Brianna Sheppard serves as the Head Senator for TCNJ's School of the Arts and Communication. As part of Student Government's Diversity and Inclusion Committee, she works closely with TCNJ's Office of Diversity and Inclusion to ensure that students from all backgrounds can feel comfortable calling TCNJ their home.
Tell us about your experience as a Senator for the School of the Arts and Communication!
I just joined Student Government in Fall 2017, but so far being such a vital part of the campus community has been an amazing experience. As Head Senator, my responsibilities include collecting feedback from faculty, staff, and students on how to improve the school, which I then bring back to Student Government to workshop. On the Diversity and Inclusion Committee, I get to work with the Office of Diversity and Inclusion and really help to make people from all different backgrounds feel comfortable on this campus. I want everyone to be able to call TCNJ their home.
Getting to know the Dean, the faculty, and the staff of the School of the Arts and Communication has been a great experience. It's been amazing to make connections just solely off the fact that this is what we love to do — we all have an interest in the arts and communication, and it's what brings us all together. 
What do you hope to accomplish in this role?
As someone who is black and a woman in a major field that has traditionally been dominated by white males, I want to be someone who's able and willing to reach out and make waves and show what is possible. I want to be a representative for people who have not always seen themselves represented in this industry. 
As you enter your final semester of your senior year at TCNJ, what sort of projects are you working on?
Currently I'm working with my sister's nonprofit, the Red Queen Foundation, which helps homeless women and girls receive sanitary products, toiletries, and other items they no longer have access to, focused primarily in the Trenton area. 
What do you plan to do after graduation?
Eventually I want to go on to grad school and become some sort of counsellor for youth in my area. I see such a lack of love and respect for children in this area, and I want to be the one to foster that love and respect so they grow up knowing they were cared for, and then they can continue to spread that love as they move forward. I would love to be a voice for my community.
What does TCNJ's School of the Arts and Communications mean to you?
The School of the Arts and Communication, to me, is a place where you can be creative in a space unfiltered. It's a place to learn and be taught in ways that have been passed down forever, but it's also a place to change those traditions. You get to constantly interact with the arts, but continue to grow as you do so. 
What advice can you offer incoming students to your department or any department in the School of the Arts and Communication?
Be willing to change. Don't change who you are as an individual, or feel like you need to mold yourself, but don't be afraid to change positively, and grow in your field. Don't be stubborn and think, "I'm not good at editing," and close it out as a possibility. Be willing to try new things! That's part of being creative, and the School of the Arts and Communication is all about creativity.