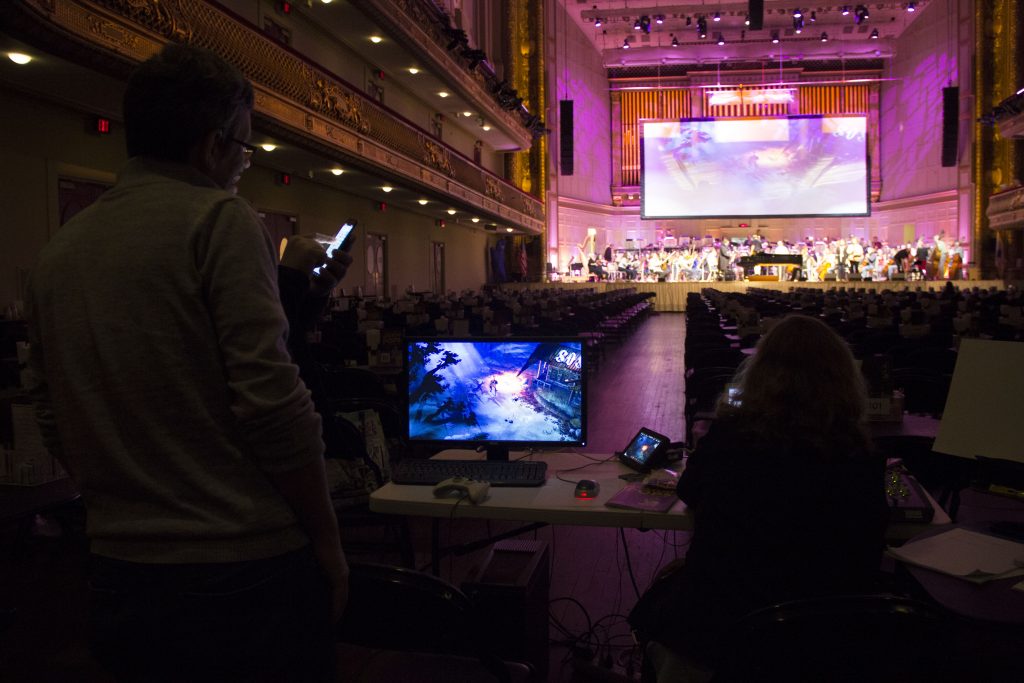 Teresa Marrin Nakra, TCNJ Associate Professor of Music & Interactive Multimedia, was recently invited to present her work in concert with the world-renowned Boston Pops Orchestra in Boston's Symphony Hall. The concert was held on May 27 to celebrate the 25th reunion of Harvard's Class of 1992; the Boston Pops and reunion organizing committee asked Teresa to represent her class along with a select few others, including Steinway artist John Milbauer and members of the band Pink Martini.
For this performance, Teresa presented an interactive, digital version of the "visual music" concept first popularized by Walt Disney in Fantasia. She collaborated with video game pioneer Damian Isla (whose credits include Halo 2) and robotics visionary Yuri Ivanov to present a responsive animation system that reacted directly to the music. The experience was designed to complement Maurice Ravel's Piano Concerto in G Major, performed by John Milbauer and the Boston Pops. As the musicians performed, Teresa's software listened to a real-time audio feed and analyzed it for features such as pitch, volume, tempo, and harmony. Those variables were then sent to a custom build of a new indie game called The Flame in the Flood. Musical inputs controlled various aspects of the simulation such as the time of day, camera angles, weather, lighting effects, and the behavior of a flock of birds. Audience members responded enthusiastically to the beautiful animation and described how it enhanced their experience of the subtlety and artistry of the musical performance.
Boston Pops conductor Keith Lockhart invited Teresa to describe her work to the orchestra during the rehearsal and brought her up to the stage to acknowledge her contribution at the end of the performance. This was Teresa's third presentation with this venerable performing arts institution, having twice collaborated with the Boston Pops and Symphony on research projects measuring the gestures, physiology, and emotions of orchestra conductors. (She also produced a popular exhibit at the Boston Children's Museum that enabled kids to 'conduct' a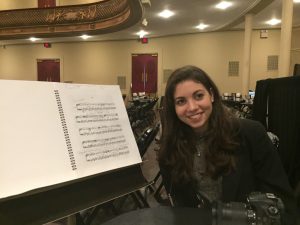 video of the Boston Pops using a sensor baton, 2003-2009.) Dennis Alves, Director of Artistic Planning for the Boston Pops, wrote afterward that "It was a real pleasure to have you back and to witness your latest creative and technological endeavor."
Interactive Multimedia major Jillian Festa, who also performs as a violinist in the TCNJ Orchestra, was invited to assist in the production, traveling to Boston and providing technical and media support for the event. The included photos and videos were taken by Jillian during the rehearsal and performance.