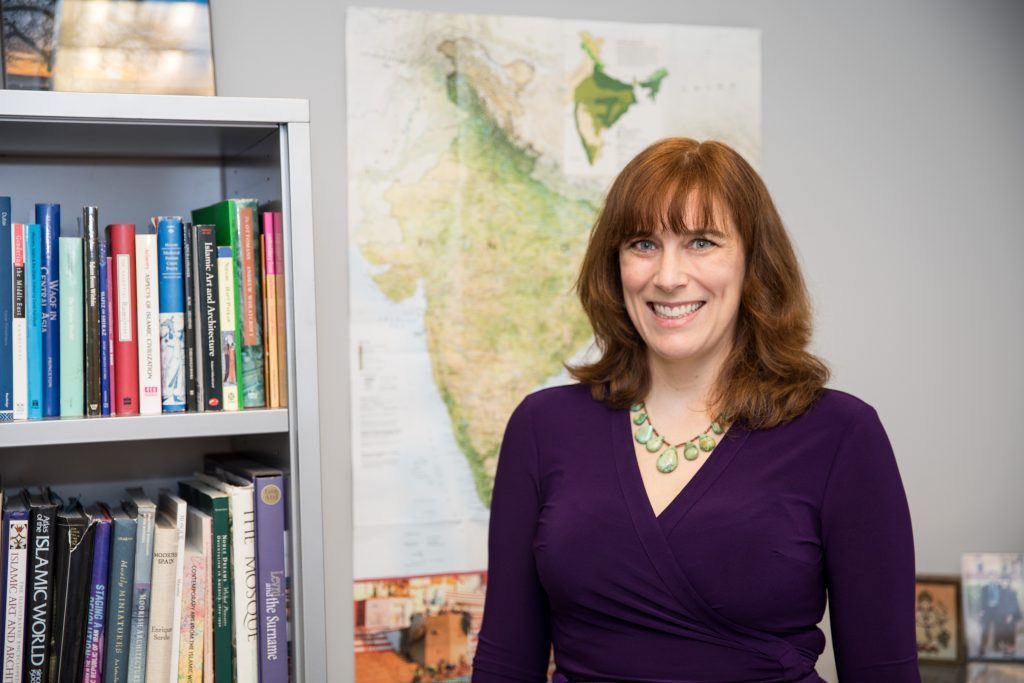 Hutton hopes her project will be a first step in making the story of art history a more inclusive one.
Even if you've never taken an art history class, you've probably heard the words that describe its story: ancient, medieval, renaissance, baroque, modernism.
Yet the story of Deborah Hutton's area of expertise—Asian and Islamic art—is told from the margins, if it at all.
"Think of the Metropolitan Museum of Art," says Hutton, professor of art and art history. "Western art takes center stage, organized by time, and the rest of the world is organized by geography in the corners."
As the fourth recipient of the Gitenstein-Hart sabbatical prize, Hutton hopes to start moving the story from "the west and then the rest" to a more global approach that doesn't privilege one part of the world over another.
"[Western art] is a good story that no one wants to give up," she says. "But isn't it time to be more inclusive?"
Hutton will spend the next year as part of a large team of authors working to re-write the narrative of art history.
"One of the primary objectives of my scholarly agenda is to break through what I see as the barriers in traditional art history, particularly relating to geography," says Hutton. "This project seemed like an amazing opportunity to do just that."
Her piece of the project includes 23 chapters detailing art from Southeast Asia (Indonesia, Thailand, Malaysia, Cambodia, Vietnam, Burma, Laos), South Asia (India, Pakistan, Bangladesh, Nepal, and Sri Lanka), and Islamic art (north Africa, the middle east, and central Asia).
The end result will be a multivolume textbook for contemporary students that will break through geographical boundaries and begin to reshape the way art history is taught and learned.
"The Gitenstein-Hart prize really acknowledges the research that faculty do, and it's nice to feel supported," she says. "I couldn't do a project of this caliber without a full year sabbatical."
---
—Emily W. Dodd '03