"Finished / Unfinished"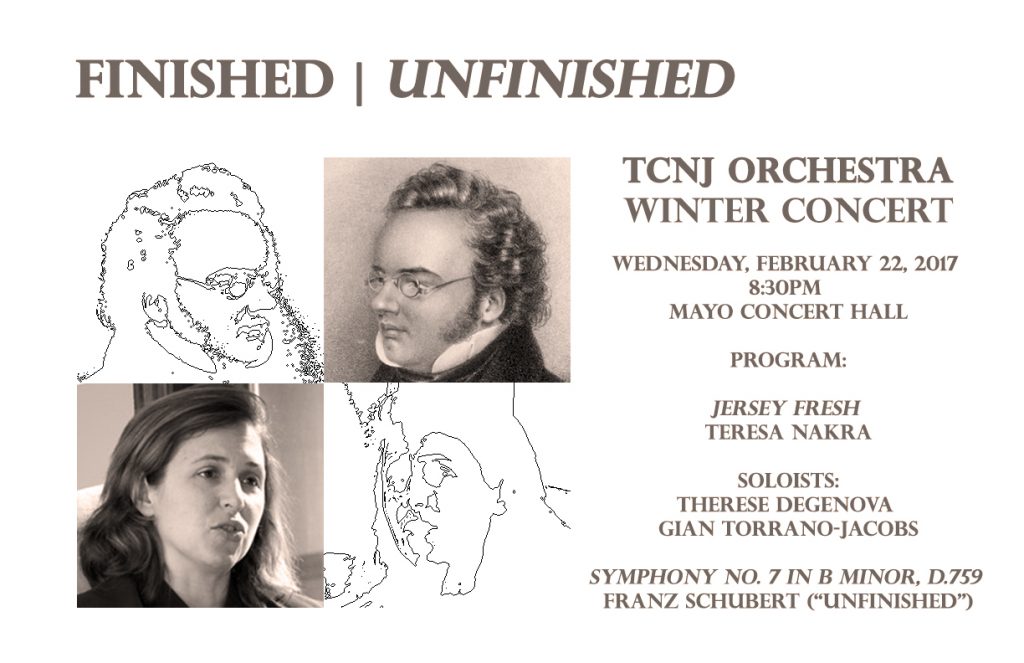 TCNJ Orchestra Winter Concert
The College of New Jersey Orchestra will present its Winter Concert on Wednesday, February 22, 2017 at 8:30pm in the Mildred & Ernest E. Mayo Concert Hall.  
Teresa Nakra, associate professor of music and interactive multimedia in the School of Arts and Communication at the College of New Jersey, was delighted to receive Harold Levin's exciting invitation one year ago to compose for our students in the TCNJ Orchestra. Having played as a community member in the violin and viola sections over many years, this ensemble occupies a special place in my heart. I have enjoyed contributing to the orchestra's welcoming musical environment that invites its members to grow and deepen as musicians, providing important and formative experiences for our students and for our campus community. For this reason, Jersey Fresh is a teaching piece that has been designed to challenge college-level string players in (hopefully) fun and novel ways that can be learned in eight rehearsals.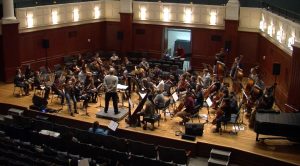 Two works will be performed, including one recently finished composition and one that has remained unfinished for nearly 200 years. The orchestra will present the world premiere of "Jersey Fresh," written especially for the TCNJ Orchestra by our own Dr. Teresa Marrin Nakra. The work is scored for solo violin, solo harp, strings, and electronics. TCNJ students Therese DeGenova (violinist) and Gian Torrano-Jacobs (harpist) will perform the solo parts, with Dr. Nakra operating the electronic sounds alongside the strings. Also on the program will be the beautiful, timeless Symphony No. 7 in B minor, D.759, by Franz Schubert, known as the "Unfinished Symphony" because of its two existing movements.
Jersey Fresh is scored for string orchestra with amplified solo violin, amplified solo harp, and quadrophonic electronic sounds. It combines a Neoromantic expression of lyricism and longing with the open, frank, and bold qualities that I associate with my adopted home state. It also pays homage to New Jersey as the birthplace of electronic music, where innovators such as Edison, Sarnoff (RCA), and Max Mathews (Bell Labs) developed groundbreaking technologies and the first reliable machines for the recording, playback, and digital synthesis of sound.
Unfinished Symphony Franz Schubert (1797-1828) completed the manuscript for his 'Unfinished' Symphony in October of 1822. The two existing movements take approximately 22 minutes to perform. According to Phillip Huscher, program annotater for the Chicago Symphony Orchestra, the reason why Schubert never finished his B minor symphony remains "one of music's great unanswered questions for more than a hundred years." The haunting and lyrical melodies of the work are much loved and easily recognized from their frequent echoes in modern media.
Click here to purchase tickets