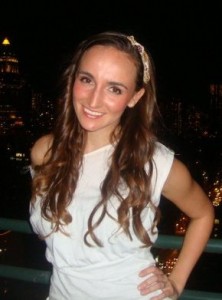 Name: Natalie Steele
Hometown: Paramus, NJ
Major: Communication Studies, Radio/TV/Film Track
Minors: Business Management and Psychology
Organization Involvement: TCNJ Ambassador, TCNJ Phonathon, TCNJ House Assistant, Lambda Pi Eta Communication Honor Society (President), Hellenic Society of TCNJ (President), Leadership Development Program, Phi Kappa Phi Honor Society, Teach for America Campus Coordinator
Natalie Steele is a senior Communication Studies major in the program's Radio/TV/Film track, with minors in Business Management and Psychology. You might have seen Natalie walking around backwards on campus while giving a tour to prospective students as a TCNJ Ambassador, you may have gotten a phone call from her as a representative of TCNJ Phonathon, or you might have even attended one of her original workshops as a Facilitator through the Leadership Development Program (LDP). Natalie hopes to continue to integrate the skills she has learned and developed through Communication Studies, Business Management, and Psychology with working with people in the future.
What led you to major in Communication Studies, specifically in the Radio/TV/Film track?
As I started to apply to colleges while in high school, I was initially undecided about my major. I was interested in applying to The College of New Jersey, and I went on the school's website to look into the different majors offered here. I read a lot about the Communication Studies program, and I was already interested in TV and Film, so I thought why not study something I already know that I like? The Communication Studies major has a really open curriculum, so from the classes I took as a freshman, I was able to gain an understanding about what it would be like to continue with the program. And after taking Dr. Ryan's Languages of Film and Television (COM 117) and then Intro to Communications Studies (COM 103), I knew that I wanted to move forward with this major and continue to work with people and develop my interpersonal skills.
In what ways do you look to combine your double minors in Business Management and Psychology with Communication Studies?
I really like to learn about the theories from all three disciplines and then make the connections between them. This brings different perspectives back to Communication Studies. My minors in Business Management and Psychology have helped me ground what I wanted to get out of my Communication Studies major as well. I think it's important to learn about yourself during your time here at TCNJ, and then use that knowledge to figure out what you want to get out of your major and the classes you take here.
How have your Communication Studies classes helped prepare you for being a workshop facilitator and presenter through the Leadership Development Program (LDP)?
The Leadership Development Program (LDP) was one of the first clubs that I joined here at TCNJ, and my experiences with this organization have made me feel more confident because my skills as a public speaker are valued. As a facilitator, I deliver original workshops to diverse audiences, and therefore I have to make a cohesive presentation based on my audience. This is one skill that I have developed in my Communication Studies classes—it's important to understand your audience, whether for a paper you're writing for your professor or a presentation you're giving for a class or in public. The different theories that I learned about in my Communication Studies classes have helped to solidify the abilities that I utilize as a facilitator.
As the President of Lambda Pi Eta, the Communications Honor Society, what can you tell us about the achievements of TCNJ's chapter?
Lambda Pi Eta is the Communications Honor Society, and it is open to both Communication Studies majors and minors. Through this organization, current students, alumni, and faculty are able to come together and network through sponsored events such as Career Day and panel discussions. Last year, I was the Vice President of Programming, and I am currently the President. This honor society really focuses on Communication Studies students coming together and making an impact together. Dr. John Pollock is the advisor, and has won "Advisor of the Year" several times. He's always very involved with Lambda Pi Eta, and very supportive of students.
You have had two internship opportunities through NBCUniversal's Casting and Media departments. What were some of your responsibilities and what were your internship experiences like?
At NBCUniversal I was offered a position as a Local Media intern, in which I had to "tag and bag" promotional clips featured during commercial breaks. This meant that I had to place markers for airing show promotions, such as "The Ellen DeGeneres Show on at 4:00pm." Because the show would have different start times for different parts of the country, I had to edit this information before I could submit it. It took a lot of organization, but it was a great experience. I also later worked as one of NBCUniversal's Casting Interns, in which I communicated with different agencies and coordinated with them to make sure that certain people and actors, most of which were child actors, were being sent over for casting.
Who has been your greatest influence or support throughout college?
So many of the professors here have supported me as faculty mentors. Freshman year, I wasn't sure about myself, but my Freshman Seminar Program professor, Dr. Slobodzian, helped me believe that I would be successful here at TCNJ. Dr. Ryan is my advisor, and she has always gone out of her way to help me and to develop our relationship as well. Professor Johnson even stopped me before Spring Break to talk to me about not only my skills, but my traits as well, which really meant a lot to me. I have also made really great connections with my on campus supervisors: Jamie Caponera, Alexis Gettings, and Ashley Morris, have all been role models for me and has helped me grow professionally and personally.
In addition, my parents are a huge influence, they always are so supportive and I feel so lucky to be their daughter! I am also extremely blessed to have a wonderful boyfriend, George Spirou, and a wonderful sister (TCNJ Freshman) Veronica Steele.
What memory at TCNJ has been most important to you?
One of my favorite memories was becoming a TCNJ Ambassador because I knew it meant that I would have the opportunity to reach out to people and use my communication skills to show my home, TCNJ. I was excited to help show prospective students why I love TCNJ so much, and explain why my experiences here have been like. I wanted people to be able to see themselves here, too. I also really enjoyed this past Homecoming because my family came to celebrate, and one of my housemates won Homecoming King! As my last Homecoming as an undergraduate student, it was the perfect moment for me to reflect on what a great decision it was to attend TCNJ with my family and friends.
What are your plans for the future after you graduate?
I am open to a lot of different things in the future, and I am just getting into the job hunt since I will be graduating this May. I have been using TCNJ's Lionslink to get my resume out there, and I plan to take every interview opportunity that comes up. I have a lot of different skill sets that I could apply to a number of different jobs. I know that I want to work with people because it really energizes me. I want to be passionate about whatever I'm doing, and focus on having a fulfilling career as my main goal.
What advice do you have for other students majoring in the Arts and Communication or thinking about applying to TCNJ?
For TCNJ students, there are so many organizations run by students that allow you to make an impact right here on campus, so try to go to as many as you can. It's a great way to make friends too, so be proactive and get involved! Don't be afraid to use the resources available here on campus, either. Go to Career Services and have your résumé reviewed, or set up a meeting with your advisor to discuss your classes or future plans. For anyone thinking about applying to TCNJ, the people here are friendly and down-to-earth, but also very driven. This is a really special college, not just because of the accolades we have received, but because students love their experience here.