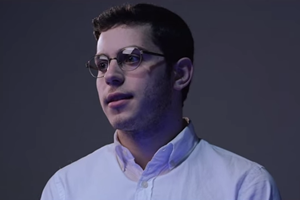 TCNJ students and alumni are celebrating an exciting win at Campus Movie Fest, the world's largest student film festival and a premier outlet for the next generation of filmmakers.
Nominated for Best Special Effects, Best Actor, Best Production Design, Best Drama, and Best Picture, the five-minute film "Paramnesia" revolves around a scientific test that reveals the fragile line between man and machine.
With the nominations come an invitation to attend the Campus Movie Fest workshop in Los Angeles, California. Nine of the film's creators, Joshua Lewkowicz (IMM '15), Andrew Kuserk (IMM '15), Ryan Laux (IMM '17), Chris Lundy (IMM '17), Daniel Czarnowski, Garrett Verdone, Steven Hoffing, Matthew Steuerer, and Alex D'Alessio (Graphic Design '15) spent five days attending workshops and panels featuring notable comedians, actors, cinematographers, directors, producers, and more.
In discussing how the film was created, actor Garrett Verdone said, "The whole film was created in just about four days. We had several pitch sessions and writers meetings to nail a story down. We tried to use our constraints to our advantage. The whole film takes place in a single room, so we tried to think of stories we could tell in one place. We took one day to do all of our shooting, then the next three days were pretty much nonstop post-production such as editing and special effects work."
Challenges of such constraints included needing to build a last minute production space and constant special effects creation.
"Even though there are only a few shots with special effects, they are highly detailed and took a long time to render," said Verdone.
The time and energy spent by the team, and especially by Kursek and Lewkowicz, was well worth it. Paramnesia took home the title of Best Special Effects.
According to their website, Campus Movie Fest began in 2001 when four students at Emory University provided fellow students with everything they needed — including camcorders and Apple laptops — to make movies in one week. Since then, more than 500,000 students at colleges and universities globally have received all the necessary technology and training to tell their stories on the big screen through film. CMF is free to students thanks to corporate partners and schools.
Watch a special behind-the-scenes video that shows the making of Paramnesia.