Have you ever wondered what you could do with a BA in Music? Maybe you're considering a self-designed major. Or, perhaps you're just curious what life is like as a student at TCNJ. Either way, read on to learn about Samuel Nemeth ('16) and how he is combining his love of music with his interests in political communication.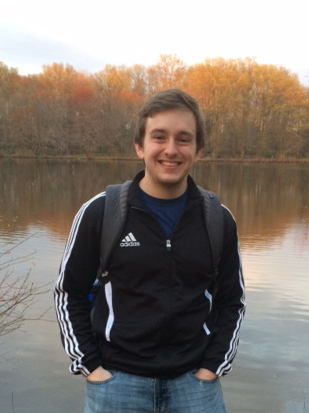 Hi, Sam! Thanks for doing this. Can you tell us about your double Music and self-designed American Political Communication major? How do they complement each other and what are you interested in about each?
In the fall of my senior year of high school, I decided that I wanted to study Music in college. Up until then, I had been strongly considering some kind of government or politics focus since I thought that was how I wanted to serve. So, in preparation for being able to study both, I decided to apply to and audition at TCNJ as a Bachelor of Arts in Music, because it seemed like a feasible way for me to study both areas, which, of course, are very different! What I found when I came to TCNJ, however, was that I was really interested in how the mainstream media affects the public opinion towards political candidates or even the election outcomes, and the Political Science department did not provide that kind of a program. Soon, I discovered that TCNJ offers a very selective self-designed major program, and began to search out classes in the Communication Studies and Political Science departments that would fit the kind of coursework that I felt would give me the interdisciplinary perspective that I desired. I began to meet with different faculty members and selected two advisors, Dr. Daniel Bowen in Political Science and Dr. Gary Woodward, in Communication Studies. After writing up a lengthy proposal, I presented to the Self-Designed Major Committee in spring of my sophomore year, and was initially denied my request for approval. I revised my proposal, added a few more Communication Studies classes, took some of the classes I had proposed, and fleshed out myself-designed major capstone project a little bit more, and returned to the Committee this past October and was approved. Having these two programs together has made me a much better critical thinker and writer, more able to understand different perspectives on issues, and ultimately, will assist me in my future musicological goals.
We heard you have some success recently with a paper. Tell us a little bit about it. 
The paper that I presented at the chapter meeting of the American Musicological Society was essentially my B.A. in Music capstone paper but shortened to fit the time parameters that each presenter was allotted. It focuses on Hector Berlioz's 1837 Requiem in which he omits the Dies Irae sequence hymn melody which was used in the requiem mass for hundreds of years. Since Berlioz used the melody in the last movement of his 1830 Symphonie Fantastique to represent a non-liturgical "funeral," I researched the trends in France in the 1830s that I thought impacted his decision to omit the Dies Irae in his Requiem – namely, the Romantic ideals, social problems, the new place of the Church in French society after the Revolution and Bourbon Restoration of 1815, and the new attitudes towards religious thought. Of course, there's more to it than that! I began my research back in July 2014 when I withdrew a book from the library that would ultimately provide a huge part of the background of my paper. In addition to that, I had articles sent to me from other institutions and had about thirteen books sitting next to my desk throughout the writing process!
What was the experience presenting like for you?
I learned very quickly that all of the other presenters were further in their musicological careers than I am. The first three held advanced degrees and were faculty of their respective schools, and the one who was closest to my age was already twenty-five, in a Ph.D. program, and had had her compositions performed by artists from around the world. To put it simply, I was initially very intimidated, but that feeling quickly subsided when I began to talk to some of the chapter members. To be honest, the physical act of presenting wasn't what was making me the most nervous. Once I got going, I was able to speak clearly and present my paper exactly as I had rehearsed. Being a College Ambassador, Community Advisor, and President of the Pep Band has made me used to speaking in front of large crowds. Instead, I was worried about the question-and-answer period that was to follow my presentation. I knew that some of the scholars in the room would have more insight, and the prospect of getting a question that I had absolutely no answer for worried me! Of course, I received a few of those questions, but I believe I handled them in a respectful and humble way and now consider some of them as potential topics for future research. Additionally, all of the chapter members were very kind to me and praised what they considered to be a "beautifully written" and "beautifully presented" (to use their words) paper. The closest I had ever come to presenting this research was when my project was just developing and we had class presentations during the BA Capstone Seminar, so this experience was very new to me! I am very grateful for and appreciative of all of the assistance that Dr. Heisler provided from the beginning, during the writing and submission process of my abstract and all the way to doing a practice read-through in his office the Wednesday before I was to present.
What are your future career plans?
My goal in life right now is to be a college music history professor. I realize that the jobs in that area are very competitive, but I believe in my work ethic and academic skills. As of now, I think that I will have two main options as a TCNJ post-grad. The first is to apply to graduate school programs in musicology or music history, and I already have begun to search for programs. The second option is to look for a job which I hope will help me pay for the graduate programs of my future. I am hoping that there might be some way to combine the skills that I have learned in my two majors for that job!