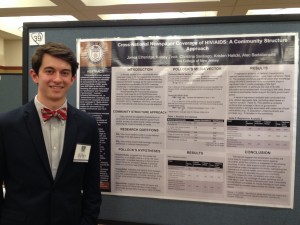 On Saturday, April 12, communication studies students were victorious in presenting refereed papers on coverage of human rights claims at national and state scholars' conferences. The topics ranged from cross-national coverage of HIV/AIDS (right to access to health care services, in particular emergency medical treatment) and rape and rape culture (right to personal security) to multi-city nationwide US coverage of post-traumatic stress among veterans (right to mental health care) and gun control (right to public safety). All of the student papers explored how national or city demographics drive coverage of critical human rights issues.
Two TCNJ papers were accepted in blind, refereed competition as the only undergraduate papers accepted nationwide for the biannual University of Kentucky Conference on Health Communication, the oldest and most distinguished national health communication conference in the nation. "Cross-national Coverage of HIV/AIDS: A Community Structure Approach", emphasizing the link between female empowerment in a nation and coverage emphasizing "government responsibility" for addressing the AIDS pandemic, was presented by senior author James Etheridge (a junior from Oakland, NJ).
The other co-authors included Kelsey Zinck (Bristow, VA), Christina Santiago (Hopewell), Kristen Halicki (Green Brook), and Alec Badalamenti (Denville). The other paper, "Cross-national Coverage of Rape and Rape Culture: A Community Structure Approach", was co-authored by Lucy Obozintsev (Ramsey), Nehha Jain (Colonia), Stephanie Herrera (Guttenberg), and Hannah Salamone (Stockton).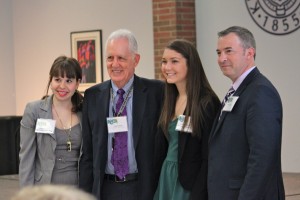 At the annual conference of the New Jersey Communication Association Conference (NJCA) at Kean University (Union, a student paper on  "Nationwide Coverage of Post-traumatic Stress: A Community Structure Approach" won the 2014 award for "best undergraduate paper in the state", an award TCNJ students also won last year, 2013, for a paper on  "Cross-national Coverage of Human Trafficking". NJCA president Chris Caldiero presented the award to the authors, who  included Stefanie Gratale (Fort Lee), Emaleigh Kaithern (West Cape May), Angelica Anas (Cherry Hill), and Kelly Johnson (Lawrenceville). The  Post-traumatic stress (PTS) paper found that newspapers in Midwestern cities and in metropolitan areas with high percentages age 65+ were more likely to emphasize 'government responsibility" for PTS, in the latter case suggesting that older citizens whose families had been subject to a universal draft were more likely to regard veterans as "one of us" than is found today with a military force recruited from only certain population segments.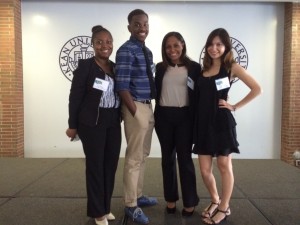 In addition, four students presented a paper on "Nationwide Coverage of Gun Control: A Community Structure Approach": April Jenkins (East Orange), Ashley Natera (Garfield), Olgi "Cookie" Deleon (Princeton), and Jonathan Mann (Paterson).
All of the human rights papers were written in classes in communication research methods or international communication taught by professor John C. Pollock, who commented: "Our faculty and fellow students are delighted at the success of our student writers and presenters, whose efforts at putting their work through multiple drafts have yielded deserved national and statewide scholarly recognition, as well as acceptance at leading graduate and professional schools. These activities reinforce the reputation of the communication studies department as a national leader in student-faculty engagement."