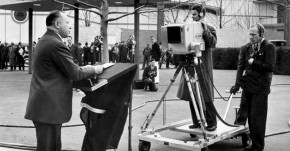 The College of New Jersey is pleased to announce the opening this October of a major exhibition that explores the state's pioneering contributions to the electronics industry.  "Innovations That Changed the World", opening Wednesday, October 2 at 12:00 p.m. in Roscoe West, traces the history of telecommunications from the invention of radio to the dawn of information age using objects drawn from TCNJ's David Sarnoff Collection. This world-class assemblage of artifacts, named after the chairman of the Radio Corporation of America (RCA), was housed at that company's research laboratory in Princeton before being donated to the College in 2010. It contains over 6,000 objects showcasing the ingenuity of RCA scientists and engineers, including the first color television picture tube, the first commercially available electron microscope, and early examples of magnetic core computer memories, thin film transistors, and liquid crystal displays.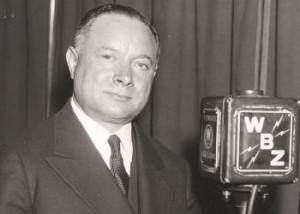 "Innovations That Changed the World" will allow TCNJ students and faculty, visitors, researchers, and local school groups to engage with over eighty artifacts from the Sarnoff Collection, as well as dozens of vintage photographs, letters, and advertisements. In addition to a biographical display highlighting David Sarnoff's remarkable rise from impoverished immigrant to industrial innovator, the exhibition is divided into nine sections, each highlighting a different technology developed by RCA—radio, the phonograph, black-and-white television, color television, electron microscopy, computing, integrated circuits, home video, and flat panel displays. Visitors will not only learn about the scientific principles behind these technologies but also the social and historical contexts into which they were introduced.
The exhibition gallery will be adjacent to a new Sarnoff Study Center, a 1,000 square-foot open archival study and storage facility, which has been funded by a major grant from the IEEE Foundation. Here, visitors can gather to learn about the collection, examine artifacts first-hand, and participate in a broad range of research and educational activities. This state-of-the-art classroom will facilitate the use of the collection for hands-on learning and student engagement with the scientific and historical aspects of technological innovation. Additionally, it will serve high school students participating in TCNJ's Center for Excellence in STEM Education and K-12 school groups connected with TCNJ through the Bonner Center for Civic and Community Engagement.
"Innovations That Changed the World" was curated by Dr. Benjamin Gross of the Chemical Heritage Foundation and Emily Croll, Director of TCNJ's Art Gallery and Sarnoff Collection, in collaboration with a committee of TCNJ faculty, staff, and consultants. Committee members include Dr. Robert Anderson, Christopher Ault, Dr. James Beyers, Dr. Benny Chan, Dr. Anthony S. Deese, Dr. Brian Girard, Dr. Orlando Hernandez, David Jurkin, Dr. Allen Katz, Richard Kroth, Dr. John C. Laughton, Dr. Alexander Magoun, Dr. John McCarty, Dr. Steve O'Brian, Dr. John Pollock, and William Rudeau.
For additional information about the Sarnoff Collection, including a searchable online image database, visit http://www.tcnj.edu/sarnoff or contact sarnoff@tcnj.edu.