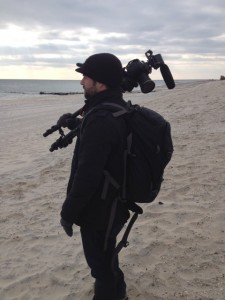 In late October 2012, documentary filmmaker Andrew Pearson hoped to capture a simple time lapse of a passing storm through his apartment window in New Brunswick, New Jersey. As the days progressed, news and weather stations began reporting on the increasing severity of the storm, and residents along the coast of New Jersey were urged to secure their homes and evacuate inland. On October 28, evacuations became mandatory, tolls were suspended on the Garden State Parkway and the Atlantic City Expressway, and President Obama signed an emergency declaration for the entire state. Hurricane Sandy, the largest Atlantic hurricane on record, was coming.
Dubbed "Superstorm Sandy," the hurricane caused an estimated $35 billion dollars in damage and took the lives of approximately 40 people in New Jersey alone. In the weeks following, shocked residents along the 130 mile stretch of land from Sandy Hook to Cape May were slowly allowed to return home, and the reality of the devastation and destruction set in. When the storm subsided and the gravity of the situation was realized, Pearson, a 2008 graduate from The College of New Jersey with a major in Communication Studies (concentration in Radio, Television, and Film), knew he needed to use his creative skills and talents to help residents tell their stories.
Pearson's interest in videography began in middle school when he chose to create short videos for class projects rather than writing book reports. As he honed his talent during high school, he started his own production company with a focus on filming events with the Princeton University Athletic Department. There, he was responsible for shooting football games, running the video board at the stadium, and creating highlight reels for the team.
Even with years of videography experience, filming the total devastation of places he knew so well was not easy.
"When the storm passed and the damage was assessed, I didn't know quite where to start, but I knew I had to be there," he said. "This was where I vacationed so many summers; this was where so many of us grew up. Volunteering for a few days wasn't enough. I had the time, resources, and abilities to tell the world a story about Sandy and the destruction to our towns. More importantly, I wanted to capture communities coming together to rebuild the shore."
And just like that, Landfall: The Eyes of Sandy, was born. Pearson couldn't do it alone; he needed an additional filmmaker and a producer to get the project off the ground. He recruited Nick Donnoli, a fellow TCNJ graduate (Communication Studies/Radio, Television, and Film, 2010) as assistant director of photography and Corrine Gray Ruff, author and shore native, as producer.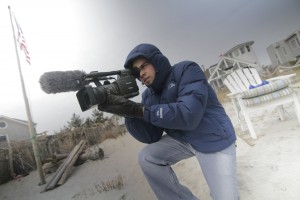 "When Drew told me his plan and asked me if I wanted to be involved, I didn't need to think twice about it," said Donnoli, who also has extensive videography experience. "Hurricane Sandy is now such an important part of our history. I wanted to capture the people, the stories, and the relief efforts to show how everyone came together to support one another."
And that they did. Beginning in late December, Pearson and Donnoli spent significant time along the coast; filming the devastation, climbing through wreckage, and interviewing residents, first responders, business owners, and even Governor Chris Christie as they shared their stories and experiences.
"People were eager to talk," Pearson reflected. "They wanted us to hear their stories. They pointed out family members in albums and talked about fond memories of their homes and lives. The media was only showing devastation and destruction, and the people wanted us to tell the real story about re-building and working together."
Getting the stories was not easy at first. Pearson relied heavily on word-of-mouth and scrolling through Facebook to find volunteer relief groups to interview. Eventually, The Sandpaper, a local paper from Long Beach Island, published an article on an upcoming candlelight vigil for Sandy and mentioned that Pearson would be filming there. That was when the project really took off. Residents began reaching out, sending Pearson personal footage of the storm taken with their own cameras and cell phones.
"In that respect, it's truly a community effort." Donnoli commented. "We weren't able to shoot the actual storm—that footage came from the people who lived it. That's part of what makes this project so special."
That's not the only thing that makes Landfall so special. Thanks to Jetty, a surf and skate clothing and accessories company with retailers nestled right in the heart of Long Beach Island, the film became a fundraising effort for Hurricane Sandy relief. Jetty partnered with Waves For Water, a recognized 501(C)3 charitable organization with experience and expertise concerning disaster recovery. According to their website, they have donated $242,666.23 to Sandy relief efforts thus far.
The efforts won't stop there. All of the profits made through screenings of Landfall: The Eyes of Sandy will be given back to the communities where the project started. The film made its debut on June 16, 2013 at the Long Beach Island Foundation of the Arts and Sciences. Pearson hopes to take it to film festivals throughout the tri-state area to continue to raise money for Sandy relief efforts.
"What I really want out of this project is to remind people that we should always be looking left and looking right to see who we can help. Community togetherness should be constant—not just in times of hardship and devastation." Pearson commented.
Donnoli agreed. "We all need to step back and appreciate what we have and how quickly it can be taken away. The film shows us that while material things may not be forever, people and relationships always continue to grow. That's the beauty of Landfall."
For more information about Landfall: The Eyes of Sandy, screening times and locations, or more about the people behind the project, visit www.landfallfilm.com or follow them on www.facebook.com/LandfallTheEyesOfSandy.