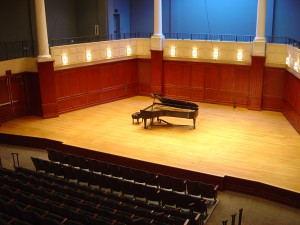 Mildred and Ernest E. Mayo Concert Hall, The College of New Jersey Center for the Arts, Music Building
Tuesday, April 2, 2013, 8:00 PM / Admission free
TCNJ Center for the Arts is pleased to present a highly novel concert of works composed from 2000 to the present by living New Jersey-based composers, with the exception of the late Lukas Foss and his 1980 madcap Curriculum Vitae with Time Bomb, for accordion and percussion. Other unusual combinations on the program are those of violin and electronics (a world premiere) and soprano saxophone and accordion. In addition there will be solo works for percussion, guitar, piano, and soprano with piano. TCNJ composers include Robert Young McMahan, Teresa Marrin Nakra, Carlton Wilkinson, and visiting faculty member Benjamin C. S. Boyle, also on the faculty of Westminster Choir College. Other composers represented on the program are, besides Lukas Foss, Donald Crockett and Francisco J. Núñez. TCNJ performers include pianist Joanna Chao, guitarist James Day, classical accordionist Robert McMahan, violinist Teresa Nakra, and percussionist William Trigg. Guest artists are soprano Justine Aronson and saxophonist Paul Cohen.