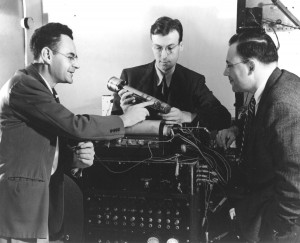 The College of New Jersey is pleased to announce that the Institute of Electrical and Electronics Engineers (IEEE) Foundation has awarded a grant of $19,800 for the establishment of a new study center in connection with TCNJ's Sarnoff Collection. The IEEE is the world's largest professional association for the advancement of technology, and the IEEE Foundation supports innovative projects that bring the exhilaration of scientific discovery to students, foster technological innovation, preserve history, work to benefit humanity, and promote awareness of the long-reaching effects of engineering.
The Sarnoff Study Center will serve as the central educational component of the Sarnoff Collection at TCNJ.  This world-class collection, which was donated to TCNJ in 2010, is named in honor of David Sarnoff, the chairman of RCA and founder of the National Broadcasting Company (NBC). It contains over 6,000 objects showcasing RCA's numerous contributions to 20th century electronics and telecommunications, including the first color television picture tube, the first commercially available electron microscope, and early examples of magnetic core computer memories, thin film transistors, and liquid crystal displays. These artifacts, and many others, can be viewed online at http://www.tcnj.edu/sarnoff.
The project will be directed by Dr. Benjamin Gross, consulting scholar for the Sarnoff Collection and Emily Croll, Director of TCNJ's Art Gallery and Sarnoff Collection. "The Sarnoff Study Center offers TCNJ students and visiting researchers an unprecedented degree of access to the technologies that defined the Information Age, many of which were developed at RCA Laboratories in Princeton." Gross noted. "We look forward to working alongside the IEEE to call attention to the achievements of New Jersey scientists and engineers."
The Study Center is intended for use by visitors from throughout the region as well as TCNJ students in the departments of Engineering, Communications, Education, Computer Sciences and Information Technology, Management, American History, and Law and Public Policy. It will contain a 1,000 square-foot open archival study and storage facility, where undergraduate classes, school groups, and outside scholars can gather to learn about the Sarnoff Collection, examine artifacts first-hand, and engage in a broad range of research activities. This state-of-the-art classroom will facilitate the use of the collection for hands-on learning and student engagement with the scientific and historical aspects of technological innovation. Additionally, it will serve high school students participating in TCNJ's Center for Excellence in STEM Education and K-12 school groups connected with TCNJ through the Bonner Center for Civic and Community Engagement.
Advising on the project are Professors Allen Katz and Orlando Hernandez from the Department of Electrical and Computer Engineering, as well as a committee of TCNJ faculty, staff, and consultants, including Dr. Robert Anderson, Christopher Ault, Dr. James Beyers, Dr. Benny Chan, Dr. Anthony S. Deese, Dr. Brian Girard, David Jurkin, Richard Kroth, Dr. John C. Laughton, Dr. Alexander Magoun, Dr. John McCarty, Dr. Steve O'Brian, Dr. John Pollock, and William Rudeau.
For more information about the Sarnoff Collection visit http://www.tcnj.edu/sarnoff or contact sarnoff@tcnj.edu.
Image: Drs. Albert Rose, Paul Weimer, and Harold Law pose alongside the image orthicon camera tube, which they developed at RCA Laboratories in Princeton during World War II. An early image orthicon tube is preserved in TCNJ's Sarnoff Collection. The original copy of this photograph is in the Hagley Library, Wilmington, Delaware.