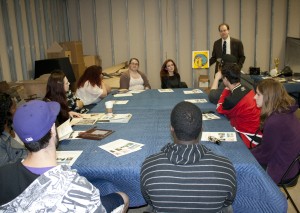 The Sarnoff Collection, an assemblage of more than 6,000 objects related to the history of telecommunications housed at The College of New Jersey, will be featured at Artefacts, an international conference of historians of science and technology. The conference, hosted by the National Museums of Scotland, takes places October 7 to 9, and will showcase projects that place scientific and technical objects into a global context. Dr. Benjamin Gross, the Sarnoff Collection's lead historical consultant and a postdoctoral researcher at the Chemical Heritage Foundation, will discuss the development of several new exhibits aimed at local and international audiences.
Originally housed at the former site of the Radio Corporation of America's Princeton laboratories, the Sarnoff Collection contains objects that span the history of 20th-century electronics, as well as biographical materials associated with its namesake, RCA's longtime chairman David Sarnoff. Highlights of the collection include the telegraph key Sarnoff used to coordinate the rescue of survivors from the Titanic, the first color television picture tube, the first commercially available electron microscope, and early examples of magnetic core computer memories, thin film transistors, and liquid crystal displays.
These objects, and many others, will be showcased in Innovations That Changed the World, an introductory exhibition of the Sarnoff Collection slated to open in 2013. Dr. Gross will present an overview of this exhibit and his work with Emily Croll, the Director of TCNJ's Art Gallery and Sarnoff Collection, to incorporate the collection into the curriculum and educational objectives of the College. In addition, he will showcase the Sarnoff Collection's new website, which features high-resolution photographs of over 600 artifacts.
For additional information about the Sarnoff Collection, contact Emily Croll at crolle@tcnj.edu or 609-771-2633. The full program of this year's Artefacts conference is available online. http://www.artefactsconsortium.org/Meetings/MeetingsCurrentF.html