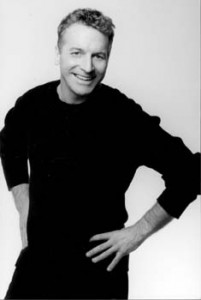 The College of New Jersey School of Arts and Communication is pleased to announce actor, mime, and arts educator Bill Bowers as the 2012 commencement speaker. Mr. Bowers received an undergraduate degree from Montana's Rocky Mountain College and an MFA from Rutgers University's prestigious Mason Gross School of the Arts. Bill has performed throughout the United States, Canada, and Europe. His extensive training and heartfelt personal style of acting and pantomime have led him on an incredible journey from regional stage to tours, television, film, and even Broadway.
Bowers appeared on Broadway as Zazu in Disney's The Lion King, and Leggett in The Scarlet Pimpernel. His autobiographical play, It Goes Without Saying, opened Off Broadway in 2006 and enjoyed a sold-out, extended run. Bowers has performed on the stages of Radio City Music Hall, Madison Square Garden, and the Kennedy Center. His regional theater credits include The Berkshire Theater Festival, The Denver Center Theater, Cincinnati Playhouse, George Street Playhouse, Montana Rep, Two Rivers Theater, Paper Mill Playhouse, Eugene O'Neill Theater Center, Repertory of St. Louis, and the Pioneer Theater Company.
Bowers can be seen in the feature film, Two Weeks Notice, starring Sandra Bullock and Hugh Grant. His television credits include All My Children, One Life to Live, Remember W.E.N.N., Law & Order, and Disney's Out of the Box. While on Broadway, he was featured on The Rosie O'Donnell Show, The Today Show, and The Tony Awards.
Dean John Laughton states, "The arts are, in the end, about telling stories and making connections. Bill brings a special insight to his performances that find the meaningful in the everyday occurrences and presents them in an unforgettable way. "