Keynote Address and Panel  Discussion
Thursday, April 27, 2023 | 7 PM | Mildred & Ernest E. Mayo Concert Hall
Award-winning author and historian Erika Lee will present a keynote address about the urgent need for Asian American history in our classrooms.
After the lecture, Associate Professor of Communication Studies Yifeng Hu will moderate a panel discussion with Lee and Sima Kumar, a New Jersey teacher and education advocate. The panel will focus on consequences of erasing Asian American stories in curriculum and media, various grassroots efforts to change the status quo, and how to prepare the next generation to be inclusive and culturally competent citizens of the U.S. 
Copies of Lee's "The Making of Asian America" will be raffled throughout the event, and a book signing for prize recipients will follow.
The event is co-sponsored by the Schools of the Arts and Communication, Humanities and Social Sciences, and Education; and the Division of Inclusive Excellence.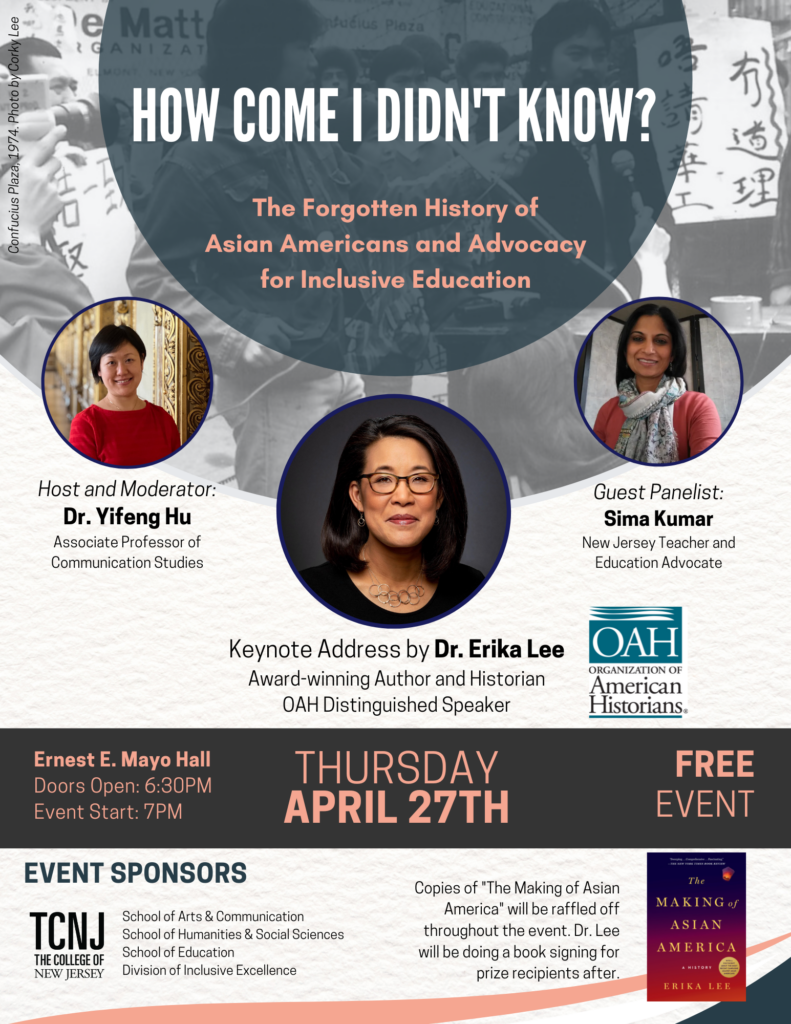 ---
About the Keynote Presenter:
Lee is Regents Professor, the Rudolph J. Vecoli Chair in Immigration History, Director of the Immigration History Research Center at the University of Minnesota, and the past President of the Organization of American Historians. The granddaughter of Chinese immigrants, Lee grew up in the San Francisco Bay Area, attended Tufts University, and received her Ph.D. from the University of California, Berkeley. Recently awarded an honorary degree from Tufts University and elected to the American Academy of Arts & Sciences, Lee had also testified before Congress during its historic hearings on discrimination and violence against Asian Americans. Starting July 1, 2023, Lee joined the History Department at Harvard University as the inaugural Bae Family Professor of History.
About the Guest Panelist: 
Kumar is a board member of Make Us Visible New Jersey, a grassroots coalition responsible for gaining support and passing the AAPI curriculum bills in New Jersey. Kumar testified at both Assembly and Senate Education Committee meetings. She heads the professional development branch of The E Pluribus Unum Project, a nonprofit organization that serves as a hub to connect and mobilize communities across New Jersey for the purpose of transforming education to reflect our pluralistic society.
About the Host: 
Hu is an associate professor of Communication Studies at TCNJ. One of her main teaching and research areas is intercultural/racial communication. She was a strong advocate for the passing of the AAPI curriculum bills in New Jersey, and led a large-scale AAPI Advocacy Campaign on campus. Hu is the inaugural recipient of the Excellence in Diversity, Equity and Inclusion Award sponsored by the Faculty Senate and an Intercultural Development Inventory® Qualified Administrator.