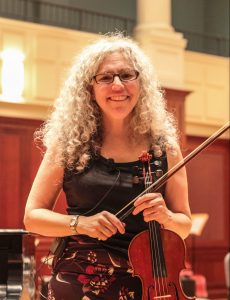 On November 17, Alicia Svigals discussed the musicology and lore of klezmer, an East European Jewish musical tradition, and led a student klezmer band in a set of old world dance tunes. 
Alicia Svigals is a composer, a founder of the Grammy Award-winning Klezmatics, and the world's leading klezmer violinist. She has played with and composed for violinist Itzhak Perlman, playwrights Tony Kushner and Eve Ensler, the late poet Allen Ginsburg, and Robert Plant and Jimmy Page of Led Zeppelin, among many others. She has appeared on David Letterman, MTV, Good Morning America, PBS' Great Performances, and the soundtrack for The L-Word. Her klezmer roots band, Alicia Svigals' Klezmer Fiddle Express, plays at festivals across the United States and around the world.

In 2013 Ms. Svigals was awarded the Foundation for Jewish Culture's annual New Jewish Culture Network commission for her original live score to the 1918 silent film The Yellow Ticket. In 2014 she was an NEA MacDowell Fellow in composition, and a fellow at LABA: A Laboratory for Jewish Culture.