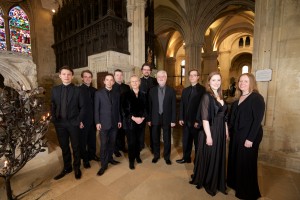 The enticing and seductive lyric poetry of the Song of Songs, also known as the Song of Solomon or the Canticles, has long been a source of inspiration to composers. In this shared performance with the critically acclaimed English vocal ensemble, Magnificat, The College of New Jersey Chorale returns to the Great Music at St. Bart's Concert Series to present settings of these passionate texts from the sixteenth-century to the present day. Beginning at 8:00PM on Saturday, April 11, the program, Rise Up My Love My Fair One, will include music by Palestrina, Bertolusi, Clemens, Da Silva, L'Heritier, and Praetorius. The performance also features the New York City Premiere of Donald McCullough's Song of the Shulamite for chorus, soprano soloist, harp, marimba and xylophone.
Magnificat will be taking residency at The College of New Jersey in the days leading up to the performance, working with students across varying disciplines, including members of the TCNJ Chorale. Under the direction of Dr. John P. Leonard, TCNJ Chorale is the premier choral ensemble at The College of New Jersey. During their last performance at St. Bart's with the Argento Ensemble, TCNJ Chorale was praised as "excellent" with "superlative voices," (ConcertoNet.com) and "entirely in control" (New York Arts).
Since its formation in 1991 by director Dr. Philip Cave, Magnificat has forged a reputation as one of the premier early music consorts. The reviews say it all: "the choral sound is extraordinarily coherent…clearly Cave and Magnificat are the team for this repertory." (Fanfare Magazine). "Director Philip Cave creates some revelatory readings…For clarity, nuance and intimacy, Magnificat's vocalists are unmatched." (BBC Music Magazine).
Tickets are available for $25.00 (General Admission) or $15 (Senior/Student). All tickets can be purchased online at www.stbarts.org.
Great Music at St. Bart's is produced by the Mid-Manhattan Performing Arts Foundation, an independent 501(c)(3) corporation established to cultivate, promote, sponsor and develop the understanding and love of the performing arts as presented at Saint Bartholomew's Episcopal Church, a treasured masterpiece of architecture on the east side of Manhattan's midtown, now elegantly outfitted with comfortable cathedral chairs enabling the utmost variety in flexible seating. The corporation sponsors performances of music, dance, drama and other performing arts as well as the exhibition of works in the film and fine arts genre.