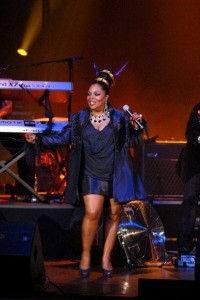 The College of New Jersey School of the Arts and Communication, together with support from the Department of Music, African-American Studies, Women's and Gender Studies, First Seminar Program, English, and the Office of Equity and Diversity are pleased to announce two events held in celebration of the rich history of music in Trenton this fall.
Please join us on Wednesday, September 24 from 11-12:00PM in Mayo Concert Hall (Music Building) for a free public lecture by singer and actress Ms. Sarah Dash of the iconic genre-defying trio Labelle. Along with fellow Labelle members Patti Labelle and fellow Trenton native Nona Hendryx, Ms. Dash has been recognized by scholars and journalists as an important contributor to trends in music and popular culture in the 1960's and 70's. Beginning as the Bluebelles, they garnered critical acclaim in the early 1960's with soaring renditions of standards such as "Danny Boy," "Somewhere Over the Rainbow," and "You'll Never Walk Alone." They reinvented themselves in the 1970's with elaborate stage shows, glam rock costuming and a bold repertoire that included their best known hit, "Lady Marmalade.
In her lecture, Ms. Dash will speak about how her upbringing in the African-American church in Trenton, as well as the city's public schools, contributed to her early musical development. She will discuss some of the challenges she faced as a black woman in an industry rife with tales of race, gender and financial exploitation. She has also promised to share rarely seen performance footage and photos.
On Wednesday, October 29 at 7:30PM we invite you to "Trenton Makes Music: A Celebration" in the Kendall Black Box Theatre (Kendall Hall). Trenton music legends Thomas Gryce and Clifford Adams will be playing together with TCNJ Jazz Ensemble led by Professor Gary Fienberg. Repertoire will include pieces by Oliver Nelson, Bobby Timmons, Duke Jordan, Horace Silver, Kenny Burrell, and more.  The evening will benefit the Don Evans Memorial Scholarship Fund at TCNJ. Professor Evans established the History of Jazz course at TCNJ along with other arts related offerings, in addition to being a playwright of note. The scholarship supports students pursuing arts education at TCNJ who experience financial hardship.
Saxophonist and arranger Thomas Gryce was born in Pensacola, Florida, and during the Great Depression, Tommy and his famous brother Gigi Gryce were schooled in music as children by a musician from the Andy Kirk band through the WPA, a New Deal program. Eventually, Gryce's talent took him to Wilberforce University in Ohio and ultimately, he received his MA from Columbia University in NYC while playing with the likes of Betty Carter, Benny Golson, Melba Liston, Ben Riley and Donald Byrd. Known throughout the Delaware Valley area as one of the premier music teachers, Gryce taught at Trenton High School and Westminster College, and worked as a curriculum consultant for many educational institutions.
Clifford Adams was born and raised in Trenton, NJ and briefly attended Trenton State College to study trombone. Since the, he has played with many of the jazz greats, names that resound throughout history and remain vibrant in the present by their influence on modern music forms such as tenor saxophonist Gene Ammons, bebop era saxophonist Sonny Stitt and trumpeter Freddie Hubbard. Most notably, Mr. Adams spent decades in the horn section of the long-time pop-funk band Kool and the Gang and is recognized for his solos in hits such as "Joanna," "Jungle Boogie," and "Hollywood Swinging."
The lecture and concert are held in conjunction with a class tailored to incoming TCNJ freshman, Trenton Makes Music, taught by Professor Kim Pearson with the help of Professor Teresa Nakra of the TCNJ Department of Music. The goal of the class is to produce a multimedia website documenting the stories of the dozens of Trenton musicians who have become important contributors to popular culture.
Tickets to Trenton Makes Music: A Celebration are available here or by calling 609-771-2775. For further information on other TCNJ events, please visit our online calendar.